Alexa Ray Joel slams online troll who called her hideous: 'I like the way I look'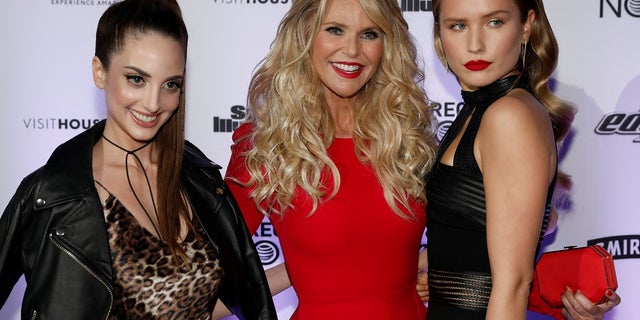 Alexa Ray Joel blasted an online troll who called her "hideous" Wednesday on Instagram.
Joel, 32, the daughter of supermodel Christie Brinkley and crooner Billy Joel, defended herself on the social media site after her mother posted a photo of her other daughter Sailor Lee Brinkley-Cook.
The photo is of Sailor posing on a rock for Sports Illustrated's Swimsuit issue. Brinkley captioned the photo stating: "My mermaid Sailor Brinkley Cook rocking it in Sports Illustrated Swimsuit." She added a "proud mama" hashtag.
An Instagram user posted a rude comment comparing Sailor's looks to Alexa Ray Joel's. The comment has since been deleted but Joel was able to hit back at the social media user.
CHRISTIE BRINKLEY, 63, STUNS IN NEW PHOTO SHOOT
"Beauty is in the eye of the beholder, Mr. Big Shot. You may think I'm hideous, but I like the way I look," Joel commented. "And that's really all the matters. (Besides, there's a lot more to people than just what they look like.) But hey, continue being a shallow, hateful troll in life and see where it gets you!"
Brinkley applauded her daughter and thanked social media users who came to Joel's defense.
"I am also grateful for all the kind-hearted people on this thread that jumped to Alexa's defense. Thank you all," Brinkley wrote.
CHRISTIE BRINKLEY'S DAUGHTER SAILOR TAPS INTO HER 'SEXY SIDE' WITH NEW PHOTO SHOOT
"[You] have to feel sorry for people like that," Brinkley wrote in reference to the social media critic.
The daughter of the now-divorced famous couple has faced scrutiny from the public previously. Joel told People she was "shy" when she was a teenager.
"I was a painfully shy teenager," Joel told People. "Before I decided to be a performer, I was a little shell-shocked when paparazzi would be around. When you're young, it's easy to pick on you. There was a tabloid page that would draw things on my face. When you come from privilege, they just see you as, 'Oh, she got it all handed to her.'"