Alex, Sierra reveal their emotional reaction to winning 'X Factor'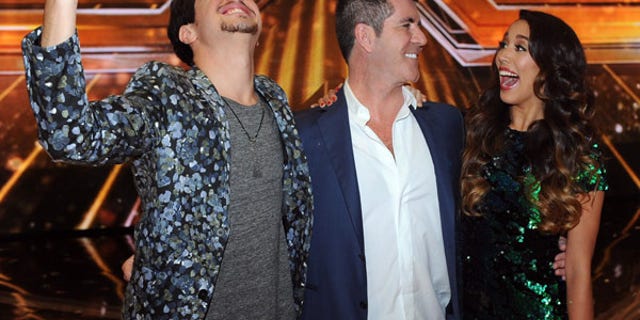 Thursday was a big night for Alex and Sierra. The Florida natives, who have been dating for two years, were crowned the winners of "The X Factor's" third season — and for the first time, Alex started crying before his super-emotional partner!
"I was like, 'Man, this is going to be OK,' but then the song started and all those blue lights in the audience, and I don't know, it just really got me," Alex told reporters backstage after winning. "It was really, really overwhelming. Then when everyone ran out, I lost it."
"I was like, 'Dang! I'm the one wiping his tears!'" Sierra added. "Then everyone came out and I was like, 'Wait, we really did win!' It kind of felt like just another performance. Like, 'OK, we made it through another week. Yeah!'"
Being joined on stage by the other finalists is really what sent Alex and Sierra into an emotional tailspin.
Alex recalled: "We were kind of just engulfed in a sea of white, all the white outfits and stuff, and Restless Road was bawling in our arms, and I'm bawling in Colton's arms, it was so emotional. It was so cool, though. That was honestly probably one of my favorite moments of all time."