AEG Live seeks Jermaine Jackson's book drafts for lawsuit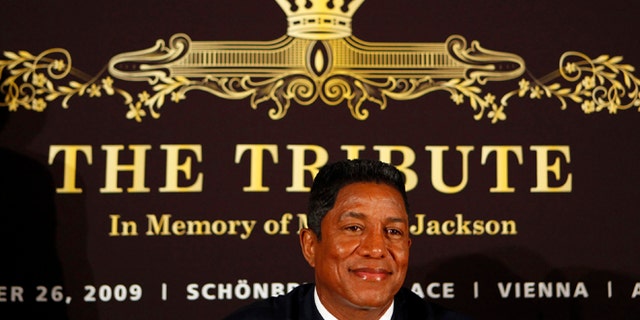 LOS ANGELES – Concert giant AEG Live is seeking book drafts and manuscripts by Jermaine Jackson that it claims may reveal details about his superstar brother that will help its defense in a lawsuit filed by the singers' mother.
AEG is seeking drafts and manuscripts of Jackson's recent book, "You Are Not Alone," as well as an unpublished memoir it claims may focus on Michael Jackson's alleged drug abuse.
Jermaine Jackson's attorneys are fighting the request, calling them overly broad and in violation of the First Amendment, according to court filings. Turning over the writings also would violate the privacy of Michael Jackson's three children and other family members and constitute a "fishing expedition," according to documents filed Monday.
AEG's attorneys contend the writings are important to its defense in a case filed by the singers' mother claiming the concert promoter failed to properly supervise Conrad Murray, the physician convicted of involuntary manslaughter for Michael Jackson's June 2009 death.
Their efforts seek drafts of a book described as "Legacy: Surviving the Best and the Worst," which was reportedly in the works several years before the pop superstar's death. AEG claims drafts of the work would show issues "of immense relevance to this case, including Michael Jackson's rumored long-term abuse of prescription medication."
AEG's attorney Marvin Putnam wrote in an email that the company was seeking the documents because, during his book tour, Jermaine Jackson publicly touted the "details of his brother's life and death." Putnam also wrote that Jermaine Jackson claimed he was the "only person qualified to deliver the real Michael."
The writings are not covered by protections afforded to investigative journalists since they are memoirs, AEG wrote in its motion to get a judge to order the release of the materials. A hearing is scheduled for Nov. 28.
Jermaine Jackson's lawyer Kevin Boyle, who also represents his mother in the lawsuit against AEG, was not immediately available for comment.
AEG had promoted Michael Jackson's comeback shows, titled "This Is It," which were canceled after his unexpected death due to an overdose of a hospital anesthetic the singing had been given to help him sleep.
The company also is seeking to depose Jermaine Jackson. And it obtained a judge's order Wednesday requiring Jackson's longtime friend and dermatologist Dr. Arnold Klein to appear for a deposition next month.
Katherine Jackson sued AEG in September 2010, and the case is scheduled for trial in April 2013.
The company also is involved in a separate lawsuit filed by Lloyd's of London over Michael Jackson's life insurance policy. Putnam said the company has informed Lloyd's that it has recouped its losses and is no longer pursuing the claim. Any proceeds should be paid to a company that benefits Michael Jackson's estate, he said.
AEG's formal withdrawal of the claim is expected soon, as well as its dismissal from the case filed by the insurer.