Adele channels her 'hero' Dolly Parton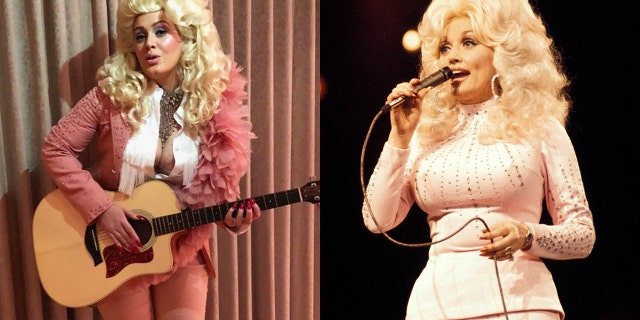 Adele revealed she's a huge fan of Dolly Parton -- and the feeling is mutual.
The British singer shared a picture of herself dressed up as her "hero" Parton on Instagram on Tuesday.
"The effortless queen of song, Dolly Parton! We love you," Adele wrote on Instagram. "We wish we could possess an ounce of your ability. You were the hero of our night! A hero of my life."
The "Hello" singer signed her note by quoting one of Parton's most famous lyrics, "I will always love you."
Adele went full on Parton with a blonde wig and a pink suit complete with rhinestones and a revealing top that showed off her cleavage.
The queen of country clearly liked Adele's costume and she commented on the photo before releasing a full response on Wednesday.
"You're making me look good," Parton told Adele in a video posted on Twitter. "If I can have just a fraction of your fans that'll help me, help me buy some cheaper wigs and some more clothes."
Parton then promised to dress like Adele next time.
"I love you," Parton said. She also sings about the 29-year-old in her song "Head Over High Heels."
"Put on my tight dress/ Hair teased on my head/ I painted my lips red./ And my eyes like Adele," Parton sings in the 2016 song.