Adam Sandler, Kevin James and Michelle Monaghan Tell FNM Why 'Pixels' is Summer's Most Original Movie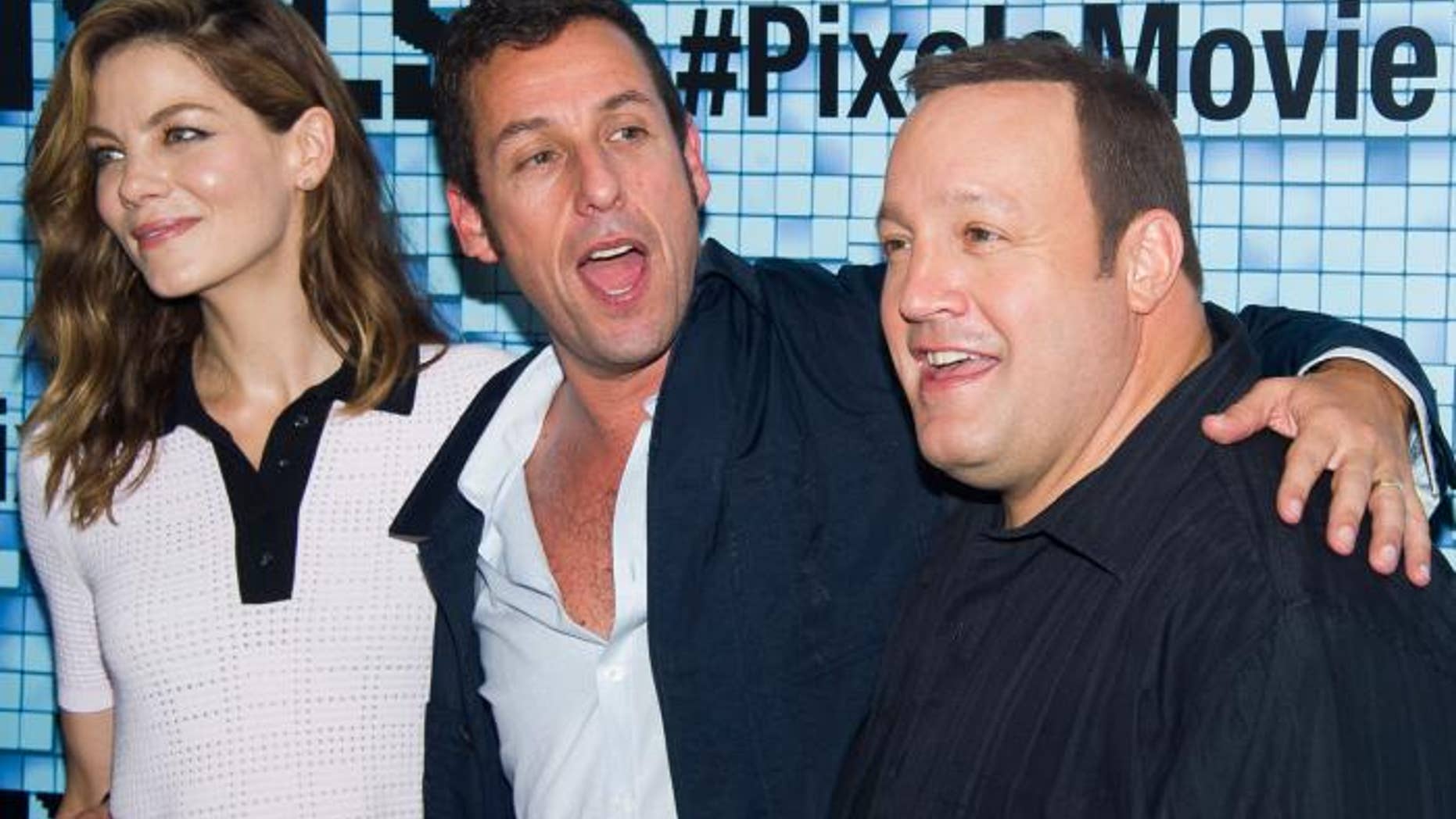 Everyone, we need your attention: The world is under attack by popular '80s video game characters including Pac-Man, Donkey Kong and Centipede. Is there anyone who can save the world?
Guess it's time to call in Adam Sandler and the gang.
Inspired by the French short film of the same name,  "Pixels" is a sci-fi comedy that tells the visually stunning story of '80s video game characters on a mission to destroy humanity. It's a hilariously far-fetched premise, but it's also one that director Chris Columbus believes audiences have been waiting for all summer.
"How great is it to do an original summer movie amidst all these superhero movies, and all these sequels?" Columbus told Fox News Magazine at the film's NYC premiere. He went on to reminisce about the glory days of making films in the '80s, saying, "I miss the ability to write a movie like 'Gremlins' or 'Goonies' and release it in the summertime. Now you can't do that. It has to be, like, 'Spider-Man 8.'"
But instead of Spider-Man, Adam Sandler stars as the lead in this creative flick. And not only that, but he also produced the film and brought along some of Hollywood's biggest comedians for the ride. "These guys were cool, they all jumped right in," the "Grown Ups" actor beamed. "None of us could believe this movie hasn't been made before! It was exciting! We're here to defend the world, and it was fun."
Also fun? Kevin James got to play the role of president of the United States — but he didn't use any current or past presidents as inspiration. "You know what, I didn't do anything," James laughed. "I wouldn't watch any presidents — I didn't want them to skew me. And I didn't watch any actors playing presidents in the past. I wanted to have my own take on it, and be more of a blue-collar guy in there. [It was] my own little twist on it."
Starring alongside Sandler and James is "True Detective" actress Michelle Monaghan, who felt right at ease among her comedian pals. "They're so good," she said. "They set the bar very high, so yes it's very daunting. But then they embrace you and it's just incredible being able to work with the likes of them. They make me better."
Rounding out the rest of the cast is "Frozen" voice actor Josh Gad and "Game of Thrones" favorite Peter Dinklage.
And seeing as video games were a hot topic at the premiere, Fox News Magazine was curious to know which ones the stars first played.
"The first video game I ever played was 'Pong,'" Sandler says. "My father was an electrical engineer, he brought it home for us and I played it literally for 50 hours straight and I couldn't stop playing it."
Josh Gad, however, had a different experience. "I remember getting my butt handed to me at Mike Tyson's 'Punch Out.' It took me about a year to finally beat Mike Tyson. It was the worst year of my life." (Let's just hope Gad and Tyson never meet in real life.)
Excited for more action, comedy and video-game cameos? Be sure to catch "Pixels," opening in theaters everywhere June 24th.