Actress Patty Duke dead at 69
Patty Duke, who won an Oscar as a teen for "The Miracle Worker" and maintained a long and successful career throughout her life, has died. She was 69.
Duke's agent confirmed her death to the Associated Press saying she died early Tuesday morning of sepsis from a ruptured intestine.
She had "really, really suffered" with her illness, her son Sean Astin stated. From late last week until early Tuesday morning, he said, "was a really, really, really hard process. It was hard for her, it was hard for the people who love her to help her...."
Duke celebrated her 30th wedding anniversary two weeks ago and tweeted about the occasion. It was her last message to fans via her verified Twitter account.
Duke's family released a statement through her publicist.
"This morning, our beloved wife, mother and matriarch and the exquisite artist, humanitarian and champion for mental health, Anna Patty Duke Pearce, closed her eyes, quieted her pain and ascended into a beautiful place. We celebrate the infinite love and compassion she shared through her work and throughout her life."
Duke, born Anna Marie Pearce, followed on her early success playing the young Helen Keller with a popular sitcom, "The Patty Duke Show," which aired in the mid-1960s. She played dual roles under a then-unconventional premise: identical twins living in Brooklyn Heights, N.Y.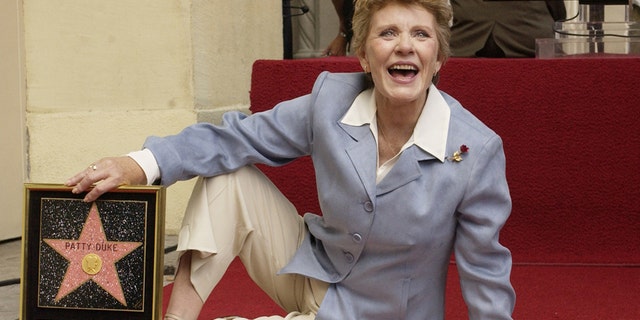 In 2015, she played twin roles again: as a pair of grandmas on an episode of "Liv and Maddie," a series on the Disney Channel.
Duke had a difficult childhood with abusive parents. By 8 years old she was largely under the control of husband-and-wife talent managers who soon found her work on soap operas and print advertising.
In the meantime, they supplied her with alcohol and prescription drugs, which accelerated the effects of her undiagnosed bipolar disorder.
In her 1988 memoir, "Call Me Anna," Duke wrote of her condition and its diagnosis only six years earlier, and of the treatment that subsequently stabilized her life. The book became a 1990 TV film in which she starred, and she became an activist for mental health causes, helping to de-stigmatize bipolar disorder.

In addition to the Oscar she took home at age 16 for playing Helen Keller in "The Miracle Worker," Duke won three Emmys at the height of her career for roles in "My Sweet Charlie," "Captains and the Kings" and the TV adaptation of "The Miracle Worker." She also won two Golden Globes, one for Most Promising Newcomer in 1963 and another for her role in "Me, Natalie" in 1970.
The actress is survived by her husband Michael Pearce, her sons from previous relationships Sean Astin and Mackenzie Astin and another son whom she adopted with Pearce.

She was previously married to Harry Falk, Michael Tell and John Astin. She also had a widely publicized relationship with Desi Arnaz Jr.
The Associated Press contributed to this report.