Actor James Whitmore Dies of Lung Cancer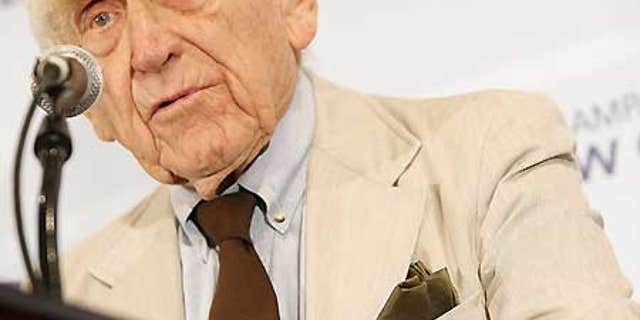 LOS ANGELES – James Whitmore, the many-faceted character actor who delivered strong performances in movies, television and especially the theater with his popular one-man shows about Harry Truman, Will Rogers and Theodore Roosevelt, died Friday, his son said. He was 87.
The Emmy- and Tony-winning actor was diagnosed with lung cancer the week before Thanksgiving and died Friday afternoon at his Malibu home, Steve Whitmore said.
"My father believed that family came before everything, that work was just a vehicle in which to provide for your family," said Whitmore, who works as spokesman for the Los Angeles County Sheriff's Department. "At the end, and in the last two and a half months of his life, he was surrounded by his family."
His long-running "Give 'em Hell, Harry," tracing the life of the 33rd president, was released as a theatrical movie in 1975. Whitmore was nominated for an Academy Award as best actor, marking the only time in Oscar history that an actor has been nominated for a film in which he was the only cast member. His Teddy Roosevelt portrait, "Bully," was also converted into a movie.
He later became the TV pitchman for Miracle-Gro plant food, and used the product in his large vegetable garden at his Malibu home.
While not known for his politics, Whitmore was an early supporter of President Barack Obama. He stumped for Obama during a 2007 rally at the Gibson Theatre at Universal Studios, telling the crowd that Obama had the wisdom "to deal with a very, very confused and complex country, and the world." Whitmore also appeared in TV commercials in 2008 for the "First Freedom First" campaign, which advocates religious liberty and preserving the separation of church and state.
Whitmore had regularly attended an Oscar night bash, Night of 100 Stars, and had sent in his RSVP for this year, said Edward Lozzi, a spokesman for agent Norby Walters' gala.
Whitmore started both his Broadway and Hollywood careers with acclaimed performances, both as tough-talking sergeants. In 1947, discharged a year from Marine duty, he made his Broadway debut in a taut Air Force drama, "Command Decision." He was awarded a Tony for outstanding performance by a newcomer.
Two years later, Whitmore was nominated for an Academy Award and won a Golden Globe as supporting actor in the war movie "Battleground."
He followed with memorable performances in scores of films, refusing to be typed. Besides war movies, he appeared in Westerns ("The Last Frontier," "Chato's Land"), musicals ("Kiss Me Kate," "Oklahoma!"), science fiction ("Planet of the Apes," "Them"), dramas ("The Asphalt Jungle," "The Shawshank Redemption") and comedies ("Mr. O'Malley and Mrs. Malone," "The Great Diamond Robbery.")
Shirley Jones, a teenager when she starred in "Oklahoma," said she came to know Whitmore during months of filming in Nogales, Ariz., and recalled being impressed by her good-humored and highly disciplined colleague.
"He told me, `If you're going to be in this business, you better learn your craft,'" Jones recalled. "And he never stopped learning."
His favorite film was "Black Like Me" (1964), a true story about a white reporter who used medication to blacken his skin to experience life as an African-American in the South.
Another of his rare starring roles was "The Next Voice You Hear" (1950), in which a family hears the voice of God via the radio. He played opposite Nancy Davis, the future Mrs. Ronald Reagan.
Whitmore often appeared on television, starring in the series "The Law and Mr. Jones" (1960-1962), "My Friend Tony" (1969) and "Temperatures Rising" (1972-1973). He received an Emmy in 1999 as guest actor in a series for "The Practice."
Jones recalled seeing him in a 2007 episode of the TV drama "CSI: Crime Scene Investigation" and marveling at his still-sharp talent. "I was absolutely blown away by that. He had a huge role, playing a lawyer, and it was phenomenal," she said.
A student of history, Whitmore delighted in portraying famous American personages. He toured in the play "The Magnificent Yankee," about Supreme Court Justice Oliver Wendell Holmes Jr. He played Ulysses S. Grant in a 1960 TV movie, Adm. William F. "Bull" Halsey in the Pearl Harbor attack spectacle "Tora! Tora! Tora!", and Walt Whitman in a dramatic reading, "A Whitman Portrait."
The monologues of Harry Truman, Will Rogers and Teddy Roosevelt brought Whitmore his greatest success. In 2000, he appeared in "Will Rogers, U.S.A." at Ford's Theater in Washington, D.C., his eighth engagement in the show at Ford's over a 30-year period.
President Ford attended a performance of "Give 'em Hell, Harry" at Ford's Theater after Richard Nixon resigned. Whitmore worried about Ford's reaction to Truman's crusty words about Nixon.
The actor recalled: "I was three feet from Gerry Ford when I said to the press as Truman: `Nixon is a no-good lying (expletive); if he ever caught himself telling the truth, he'd tell a lie just to keep his hand in.' After the show, (Ford) came up on stage and put his arm around me and said, `That was a pretty good blocking back.'" Ford had been line coach when Whitmore played football at Yale.
His movie and television careers continued into the 21st century, but he admitted that he preferred the stage.
"I find the process of making movies absolutely boring," he told a reporter in 1994. "It's so fragmented. You wait and wait and wait and then, look, as Jack Lemmon says, `It's magic time.' In the theater, once the curtain goes up, the actor is in charge."
Born in 1921 in White Plains, N.Y., Whitmore was active in school sports and acted in Gilbert and Sullivan operettas, though his strict Methodist family disapproved of the profession. After a year at an Ivy League prep school, Whitmore in 1939 enrolled in prelaw at Yale University, where he had won a football scholarship. Two knee injuries ended his football career, and he devoted himself to dramatics.
After graduating from Yale, he enlisted in the Marines and served in the South Pacific. "I had a lot of time to think in the Marine Corps," he recalled, "and so I decided it wasn't the law I wanted but the theater."
In New York he studied at the American Theater Wing under the G.I. Bill, living on $20 a week and rooming with another hopeful actor, Jack Warden. After a season in summer stock in New Hampshire, he returned to New York and won the role of Sergeant Harold Evans in "Command Decision." Rave reviews started his career in motion.
He married Nancy Mygatt in 1947, and the couple had three sons, James, Steven and Daniel. They later divorced, and in 1971 he married an actress, Audra Lindley. They often appeared in plays together, even after their 1979 divorce. He remarried his first wife in the 1980s, but another divorce ensued. Nearing 80 in 2001, Whitmore married actress-writer Noreen Nash.
Whitmore is also survived by eight grandchildren.