ACM Awards 2014: Country singers talk politics, George Strait awarded top honor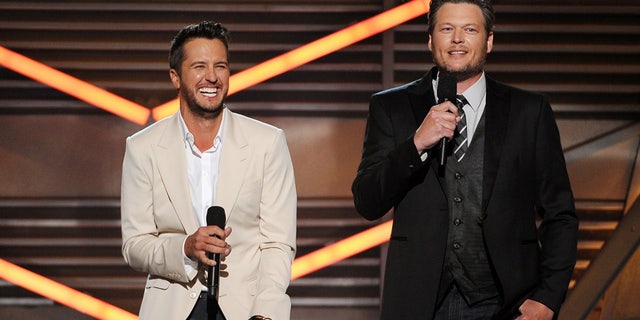 NEWYou can now listen to Fox News articles!
Perhaps inspired by November's politically charged Country Music Association Awards, country crooners Blake Shelton and Luke Bryan did their best to heat things up at Sunday's 49th Academy of Country Music Awards in Las Vegas. And we're not only talking about Bryan's signature painted-on blue jeans.
Although the ACM Awards co-hosts didn't walk away with any awards, the duo stole the show with political punditry, lively performances and celebrity roasts. Bryan and Shelton also weren't afraid to tackle hot-button topics such as same-sex marriage and the legalization of marijuana.
"What a crowd we have tonight," Bryan said. "Everybody in here tonight is ready to listen to some great amazing live music?"
"And if you don't like live music then you have to go down the block to see Britney Spears," Shelton shot back.
And the jokes didn't stop there. "The truth is, a lot has changed nice we hosted this thing a year ago," they said.
"This year, all you hear about same-sex marriage over and over again," said Bryan.
"A year ago, same-sex marriage meant once you got married, you had the same sex over and over and over again," Shelton complained while the cameras turned to his wife Miranda Lambert who did not look amused.
"This year, marijuana is being legalized in state after state," said Shelton. "Last year, you had to go to an official medical dispensary."
"We call it Eric Church's dressing room," revealed Bryan.
These were the first of many less-than PG jokes the co-hosts made; a surprisingly more risqué opening than previous country music award shows.
The Band Perry opened the night's show with a pumped up performance of their song, "Chainsaw," complete with flashing lights and loads of confetti. The sibling trio, who won vocal group of the year, proved that powerful vocals and big hair is a sure recipe for success.
Martina McBride introduced the next performer who is also no stranger to success.
"George [Strait] is a true legend," McBride reminded the audience. "He is the only artist in the history of music to have a top 10 hit every year for 30 years."
It came as no surprise when Strait took away the night's most prestigious award of entertainer of the year.
"I've always said I have the best fans in the world and I heard this was a fan voted thing, so I rest my case," an emotional Strait said as he accepted his award.
Strait wasn't the only country legend to be honored at the award show; Garth Brooks presented Merle Haggard with the Crystal Milestone Award. It was also Haggard's 77th birthday and he was treated to a medley of his songs performed by Lambert and Strait.
"Country music has been great to me all my life, and it's great again tonight," a happy Haggard said. "Thank you everybody for participating in one of my most eventful evenings."
Another artist who enjoyed an eventful evening was Lambert who walked away with female vocalist of the year for the fifth time. In addition to performing with Strait and singing solo her new single, "Automatic," Lambert won single of the year for "Mama's Broken Heart," and vocal event of the year for her performance of "We Were Us," with Keith Urban.

"I was just hanging out with Trisha Yearwood [backstage], holy crap, and I was standing next to Sheryl Crow, a complete and utter rock star. Kacey Musgraves, I grew up with her. She wrote the single of the year this year. And Carrie Underwood's my buddy, y'all, and she's a phenomenon," Lambert said of her fellow nominees. "I can't believe it, I'm so grateful and humbled."
Musgraves didn't walk away empty handed, the "Follow Your Arrow" singer won album of the year.
"I just want to say I'm really proud to be a woman representing country music," a grateful Musgraves said.
The night was full of special performances and collaborations including Lady Antebellum and Stevie Nicks and fans were delighted when Tim McGraw was joined by wife Faith Hill to perform "Meanwhile Back at Mama's." Shelton and his fellow "Voice" coach Shakira teamed up to perform their new song, "Medicine."
More winners included male vocalist of the year, Jason Aldean, and song of the year winner Lee Brice for "I Drive Your Truck." Florida Georgia Line unsurprisingly won duo of the year and performed their song "Stay" as well as "This is How We Roll" with co-host Bryan. Urban, who also performed, won video of the year with Tim McGraw and Taylor Swift for "Highway Don't Care."
The show's new artist of the year award was awarded to "Point at You" singer Justin Moore whose nomination was surrounded by controversy. The singer was technically ineligible for the award because he had sold too many records to be considered "new," but the Academy stood by their nomination and Moore took home his first ACM trophy.
"I was beginning to think there might be a height requirement for this award," 5-foot-7 Moore joked. "Country radio, thank you for giving me a chance, a hillbilly from Arkansas. And all the fans and last but not least, my beautiful wife…thank you, I will never forget this."