2 members of Tower of Power struck by train in California 'responsive'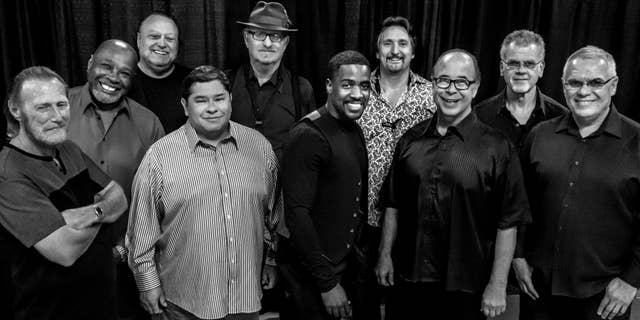 NEWYou can now listen to Fox News articles!
Two members of Tower of Power who were hit by a train Thursday night are responsive and being treated in an Oakland hospital, a rep for the band told FOX411.
"In an unfortunate accident tonight, two members of the award-winning group Tower Of Power, drummer David Garibaldi and current bassist Marc van Wageningen, were struck by a train in California," the band's rep told us.
The two men were hit by a train Thursday night as they walked across tracks before a performance in their hometown of Oakland, but both survived.
Bandleader Emilio Castillo told FOX411, "I was at the hospital last night and saw David but Marc was in intensive care and I wasn't able to see him. Dave's head and face were pretty swollen and bruised but he was lucid and expected to recover. Marc came through surgery well; his internal bleeding was stopped and they were waiting for him to stabilize in order to do further testing. The doctors were cautiously optimistic. We appreciate the responses and prayers from our former bandmates, friends, and fans and we all remain hopeful and in prayer."
Garibaldi has been with the group since 1970. Van Wageningen is substituting as bass player. Tower of Power has been an R&B institution for nearly 50 years.
GUITARIST WHO AVOIDED BUDDY HOLLY PLANE CRASH DIES AT 85
Without identifying them, the Oakland Fire Department said earlier that two pedestrians were hit by a passenger train at Jack London Square about 7:30 p.m. and taken to a hospital.
The accident was near Yoshi's, a jazz and R&B club where the group had been scheduled to play two shows Thursday night. Both were canceled.
It wasn't clear why the men were on the tracks, but pedestrians often need to cross them in the area with trains running across and in between streets, including right outside Yoshi's.
The Tower of Power, a band of about a dozen members, most of them horns, has been beloved members of the R&B and pop communities since forming in Oakland in 1968. The group and its rotating cast of musicians have recorded behind many far more famous names including Elton John, Otis Redding, Aerosmith and Santana.
They were also a national TV fixture in the 1980s with frequent appearances on "Late Night With David Letterman."
Tributes and well wishes were quickly emerging on Twitter, including one from pop star and drummer Sheila E., who tweeted "Pleez pray for my frenz."
The Associated Press contributed to this report.