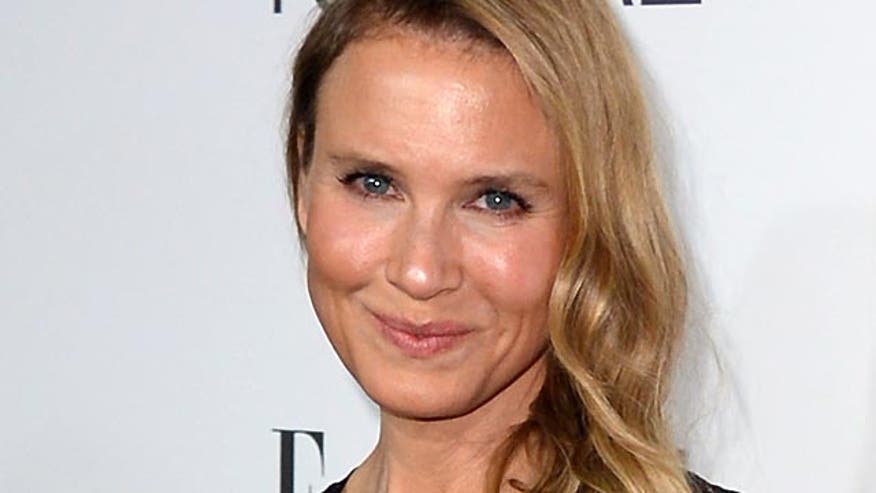 Actress Renee Zellweger caused an Internet frenzy after she stepped out Monday night looking like a different person at the 2014 Elle Women in Hollywood Awards.
The nearly unrecognizable star has long been rumored to have gone under the knife in the past, but her most recent change in appearance was even more dramatic, leading plastic surgeons to posit that she may have had work done.
"It looks like she had eyelid surgery, blepharoplasty, botox, lip fillers and cheek fillers," founder and partner of Fountain Medical Group Dr. Todd Schlifstein, who doesn't treat Zellweger, told FOX411. "It appears she changed the shape of eye and eyelid. She removed excess skin, tightened skin around the area."
Another facial plastic surgeon, Dr. John Scheibelhoffer, explained that the most striking difference in the 45-year-old's face is the change in her eye shape.
"The big thing that strikes me is her eye shape has changed from almond to oval," he speculated. "Her eyes are much more open. The bottom third of her face doesn't look all the different. She could have done fillers in her cheeks, her nose doesn't look all that different."
(Dr. Scheibelhoffer does not treat Zellweger either.)
Many fans took to Twitter to share their confusion over the "Jerry Maguire" star's new look.
I don't understand Renee Zellweger's plastic surgery. I mean. What? How can her face now look like a whole other face?! WHY BRIDGET WHY!

— Sisley (@sisleyhenning) October 21, 2014
I'm confused by Renee Zellweger's appearance, is it that different or is it just the photography? She's beautiful either way let's be fair..

— Lorna Dee Evans (@lornadevans) October 21, 2014
#ReneeZellweger has someone else's face on.

— Dana Beeeeeee (@DanaBeeeeeee) October 21, 2014
don't do plastic surgery kids! #ReneeZellweger

— Lauren (@Lauren183_) October 21, 2014
What the heck happened to Renee Zellweger's face?!???

— Lizzie Arriaza (@Lizzie_Arriaza) October 21, 2014
Others said they like her new look while some argued the frenzy over Zellweger's appearance was sexist.
Yes she looks completely different but I think she looks better. #ReneeZellweger #BridgetJones #changeisgood

— Jess (@JessicaBrindle2) October 21, 2014
Well I think Renee Zellweger looks very pretty.

— Andromeda (@andromedababe) October 21, 2014
Sad that we live in a world where someone as talented as #ReneeZellweger feels the need to surgically alter her face to that extent.

— Ruth (@RuthWhitex) October 21, 2014
You guys want to know what happened to "Renee Zellweger" ? She AGED. It's that simple. She got older and she aged. It happens. Dumbies smh

— Araneae (@RenagadeGirl) October 21, 2014
I guess "actress does what she feels she has to in horribly sexist industry" wasn't as good as "here's what Renée Zellweger looks like now"…

— Brian Gray aka ürb (@urbanbohemian) October 21, 2014
The actress has also come under scrutiny for her yo-yoing weight. She lost and gained several pounds to play the lead role in the "Bridget Jones Diary" film series.
"When you read reports that you are starving yourself or that you are anorexic it's very unfair and disappointing," she told British media outlet Daily Express in 2013. "It's not very pleasant to read reports which say you've gone too far or this or that."
FOX411's Diana Falzone contributed to this report.
WATCH: Four4Four: John Grisham ripped over child porn comments