Yemeni Troops Shell Opposition Stronghold, Kill 3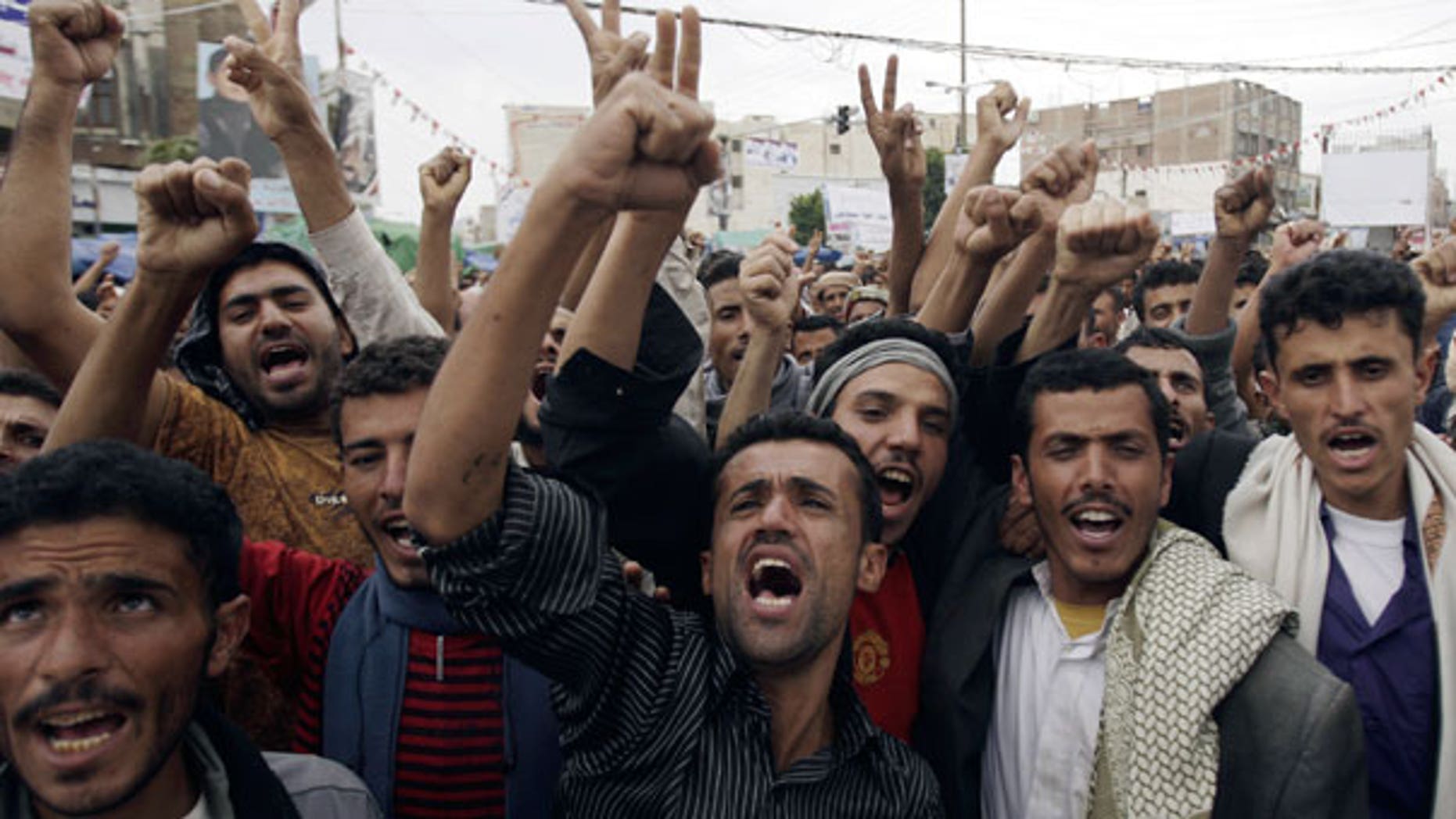 Government troops shelled the home district in the capital of the chief of the main tribe opposing Yemen's president, killing three and wounding five people, security officials said Thursday.
Heavy gunfire erupted late Wednesday in Sanaa's Hassaba district between forces loyal to President Ali Abdullah Saleh and the tribal confederation led by the al-Ahmar clan, witnesses said.
Security officials said three were killed in the clashes that erupted late Wednesday. The witnesses said the clashes began with automatic rifles and later involved mortars.
One shell exploded at dawn close to al-Ahmar's residence. The officials said two of the wounded were followers of Sheik Sadeq al-Ahmar.
Saleh supporters and fighters loyal to the al-Ahmar clan have been locked in a tense standoff in Sanaa since late May, when al-Ahmar's leader sided with protesters calling for Saleh's ouster. That set off a round of fighting in Sanaa's streets that lasted for two weeks.
Several rounds of fighting have broken out since.
Members of the al-Ahmar clan said government officials and foreign diplomats were negotiating to prevent an escalation. The officials and tribe members were speaking on condition of anonymity because they were not authorized to speak to reporters.
Since February, protesters have been demanding that Saleh to step down after 33 years in office. Fighting erupted between government forces and anti-Saleh tribes, and al-Qaida linked militants have taken advantage of the turmoil to overrun parts of southern Yemen.
In the southern city Taiz, anti-Saleh rallies turned violent as the army opened fire at tens of thousands of protesters, who threw rocks at them. A medical official said one protester was shot dead and 10 others were wounded. He was speaking on condition of anonymity in fear of retribution.
Taiz is a hotbed of anti-Saleh protests. His security forces have been cracking down on the demonstrators.
Saleh has defied calls to step down, despite regional and international pressure. Saleh is recuperating in Saudi Arabia from wounds sustained during an attack on the presidential compound in June. He recently agreed to delegate his vice president to negotiate the terms of a regional proposal for transfer of power, but opposition forces rejected that as another stalling tactic.
Violence also flared between the northern anti-Saleh Arhab tribes and Saleh forces. A medical official said five civilians were killed Thursday in shelling and airstrikes on small villages in the northern Sanaa tribal area. He was speaking on condition of anonymity because he was not authorized to brief reporters.
The tribes accuse the government of indiscriminately shelling their villages and killing civilians. The government claims the tribesmen are linked to al-Qaida.