Winter Olympics staff quarantined for norovirus blames organizers for outbreak, report says
NEWYou can now listen to Fox News articles!
Dozens of Winter Olympic staff members quarantined for norovirus are reportedly blaming the games' organizers for the outbreak at Pyeongchang, saying their "irresponsible action" caused the contagious stomach bug to rapidly spread.
Nearly 200 cases of norovirus at the Winter Olympics have been reported as of Monday, with dozens of staff members being left in quarantine at a remote youth training facility to prevent the spread of the illness, the Korea Herald reported. However, staff members in quarantine said they are given little information and the procedures to keep the virus from spreading are lackadaisical.
"The disease control officials should have shut the facility from outside at the earlier stage of the outbreak just days before the 2018 Games began," an unidentified official from the Winter Olympic Committee told the Korea Herald.
The official added: "As you can see, anyone can come in [to the Horeb Youth Center] without an identification check. Even the infected patients here often sneak out of the place for dinner."
WHAT IS NOROVIRUS? 2018 WINTER OLYMPICS PLAGUED BY VOMIT-INDUCING BUG
Olympic staff workers said they were left in the dark on when they could return to work. Some people took the job to earn extra money.
"We just came here to work and earn money," an Olympic worker told the Korea Herald. "I've been in quarantine since Feb. 2, but they have given me no specific instruction on what to do. They're just telling us to wait."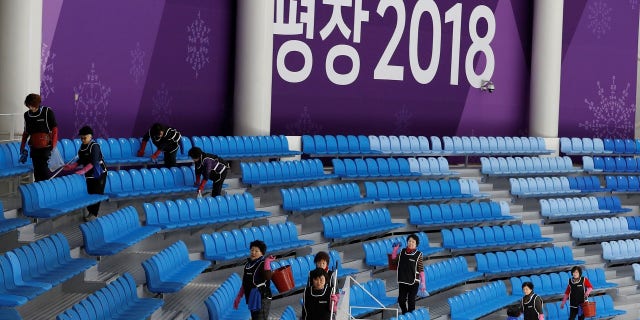 Other staff members said they "heard from no one when they should get back to work or be released from quarantine."
"It's a virus that cannot be treated with antibiotics, and I get that," another quarantined worker said. "But at least they should explain to us whether we will get paid if we continue to stay in quarantine."
One worker told the news site the money earned from working at the Olympics would help pay for college — that may slip away if the individual doesn't get paid.
The South's disease control authority announced on Tuesday the source of the outbreak was most likely caused by contaminated cooking water at the youth training facility. Norovirus causes symptoms including diarrhea and vomiting.
An investigation found that 94 people who tested positive for norovirus used the facility during the outbreak. A group of security guards caught the virus around Feb. 3, prompting nervous organizers to quarantine 1,200 staffers as a precaution just before the opening ceremony.
So far no athletes have been infected.
Kim Hyun-jun, head of the disease authority, said patients with norovirus will continue to be quarantined.