Will Conservatives, Social Democrats form a 'grand coalition' and give Merkel a lifeline?
The head of Germany's Christian Social Union gave his support for an alliance with Germany's Social Democrats on Sunday, raising hope of a grand coalition in the country and throwing a political lifeline to its embattled Chancellor Angela Merkel.
Although Merkel won a fourth term in late September, political deadlock set in since three-way coalition talks collapsed a week ago between her party, the pro-business Free Democrats and the Greens.
"An alliance of the conservatives and SPD is the best option for Germany—better anyway than a coalition with the Free Democrats and Greens, new elections or a minority government," Horst Seehofer, head of Bavaria's CSU, told Bild am Sonntag, reports Reuters.
YEMEN OFFICIALS SAY SUSPECTED US DRONE KILLS 3 MILITANTS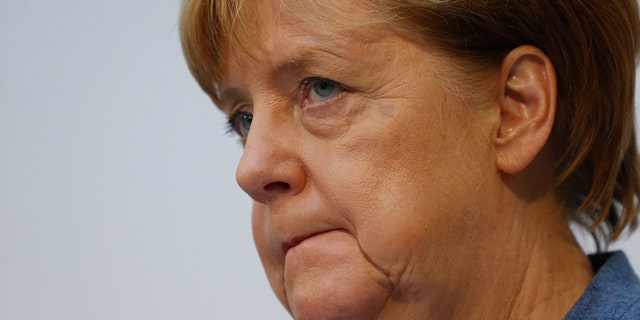 The SPD was under intense pressure to preserve stability and avoid new elections -- analysts believe they would boost the far-right Alternative for Germany, which won 94 seats in the Bundestag in the elections -- and be detrimental to Merkel.
Reuters reports that Merkel said the acting government under her leadership can keep working until a new coalition is formed, while an Emnid poll on Sunday showed that 52 percent of Germans back a grand coalition.
Even so, the road ahead for Merkel and her party won't be easy.
"As things stand, Merkel is not in a position in which she can set conditions," prominent Social Democrat Malu Dreyer told the daily Trierscher Volksfreund on Saturday, reports the Washington Post.