What Researchers Learned From Kindergarten: 17 States Have More Than 20% Latino Enrollment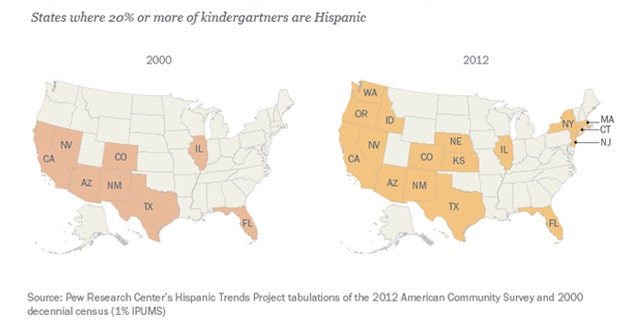 NEWYou can now listen to Fox News articles!
Most of us look at children running around on a kindergarten playground and imagine the future that lies ahead of them. At the Pew Research Center, they do the inverse: they imagine what the future holds for the kindergarten.
According to new data analysis from Pew, today's kindergartners provide more than just a glimpse into the future, they provide the key to the changing face of the country. The study finds a significant increase over the past decade in the number of states in which at least 1 in 5 kindergartners are Latino.
"We picked kindergartners because we thought it'd be an interesting way to illuminate the direction the United States is headed demographically." Jens Manuel Krogstad, writer and editor for the Pew Research Center's Hispanic Trends Project told Fox News Latino.
"Hispanics make up about 17 percent of the population – by 2050 or 2060 it will be closer to about one-third. You get closer to those numbers when you're looking at kindergartners today," Krogstad said. "When you're looking at just this slice of the population, in a sense, the future is already here."
At 54 million, Hispanics are the largest minority group in the U.S. Over the last decade, Pew statistics have recorded a 4.4 percent increase in the Latino population, a greater increase than any other ethnic or racial group.
Hispanics tend to be younger than other segments of the population. The median age in 2012 for white Americans in the U.S. was 42, much higher than the median age for Hispanics, 27.
"Hispanics have the lowest median age of any racial or ethnic group," Krogstad told FNL. "What's interesting is that while Hispanics in general are younger than other groups, foreign-born Hispanics are much older than native-born Hispanics."
Pew reports that there are 17 states where Hispanic children comprise at least 20 percent of the public-school kindergarten population, according to its analysis of 2012 Census Bureau data. In 2000, that was true of only eight states – California, Nevada, Arizona, Colorado, New Mexico, Texas, Illinois and Florida.
The nine states that have been added to the list are outside the traditional belt of Latino immigration: Washington, Oregon, Idaho, Nebraska, Kansas, New York, New Jersey, Connecticut and Massachusetts.
"By and large you see changes in migration [to these areas] in large part due to economic factors. There are jobs that people are going to. So in Nebraska and Kansas in general, it would be agricultural-related or construction," Krogstad told FNL.
According to the U.S. Department of Education projections, 50.3 percent of students starting class in the fall may be minorities, the first time historically that minorities would outnumber white students. Compared to 1997, when minorities comprised only 36.7 percent of students, this is a dramatic turnaround in just 15 years, Pew reported.
Further projections expect minorities to make up 57 percent of the population by 2060, according to the Census Bureau. Currently four states, as well as the District of Columbia, are "majority minority": California, Hawaii, New Mexico and Texas.
According to Pew, Latinos are projected to make up 31 percent of the overall U.S. population by 2060.