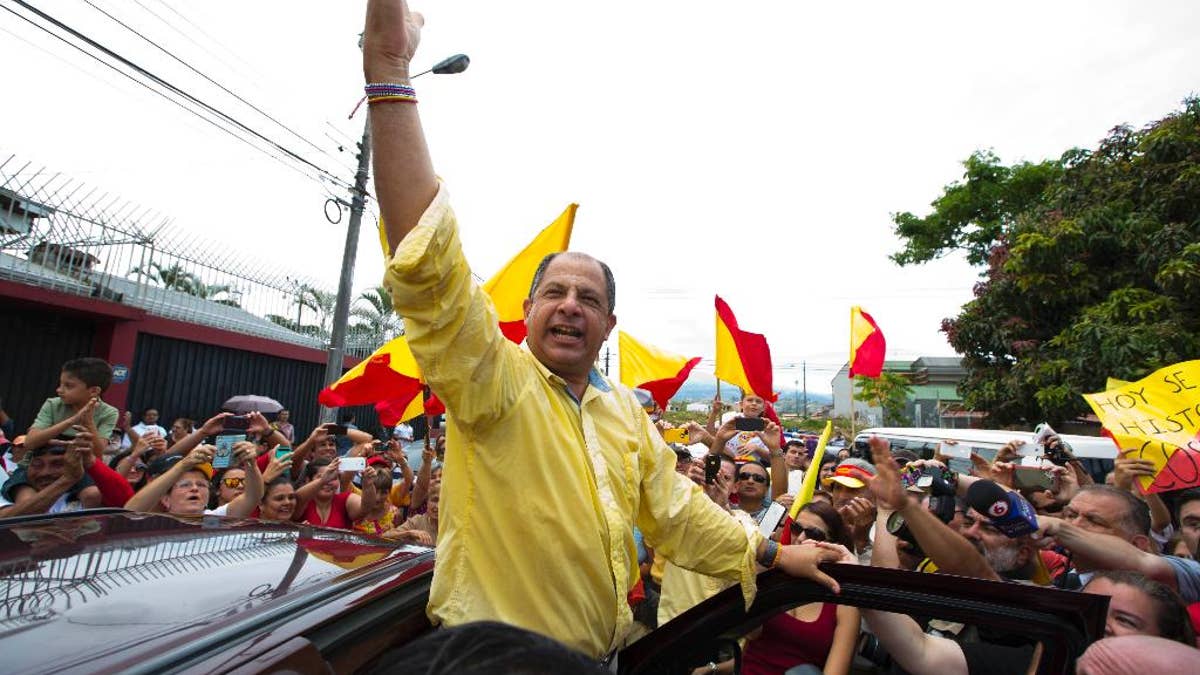 SAN JOSE, Costa Rica – Opposition candidate Luis Solis easily won Sunday's presidential runoff in Costa Rica, an expected result given that his only rival had stopped campaigning a month earlier because he was so far behind in the polls.
What gave Solis, a center-leftist, cause to celebrate was a solid voter turnout in an election considered a foregone conclusion. Experts had warned that a low turnout would undermine the legitimacy of his government. In the run-up to the vote, he had appealed to Costa Ricans to cast ballots and set a goal of getting more than 1 million votes.
Late Sunday, Costa Rica's Supreme Electoral Tribunal announced that with 93 percent of voting stations reporting Solis had 1,258,715 votes, or 77.9 percent support, easily beating ruling party candidate Johnny Araya at 22.1 percent. Araya remained on the ballot even though he suspended his campaign because the country's constitution does not allow for a candidate to drop out.
While the 43.2 percent abstention rate was slightly above the 39.8 percent rate seen the last time a Costa Rican presidential election went to a second round in 2002, authorities said Solis received the highest absolute number of votes for a presidential candidate in the country's history.
"I receive these results with serenity, with maturity, and I will start by recognizing them with humility and respect, and by congratulating President-elect Luis Guillermo Solis," said the 57-year-old Araya, conceding the election.
Solis, who turns 56 later this month, topped the first round of the presidential vote in February with only about 30 percent of the vote and a margin of less than 1 percentage point over Araya of the National Liberation Party. But just over a month later, polls showed Solis had built a lead of two or three to one, and Araya stopped campaigning, calling it a waste of money.
Solis has vowed a more activist government that focuses on building up small and medium-sized local businesses while strengthening social and environmental programs in a country long considered the most stable in Central America.
While his Citizen Action Party opposed the Central American Free Trade Agreement, Solis said he won't try to pull out of the deal, but will manage it better.
Solis will have to negotiate to get his policies through Congress. His party holds just 13 of the 57 seats in the National Assembly. And analysts had said that Sunday's vote total could affect his influence as well.
"If he gets less votes that what he got in the first round, he won't have political legitimacy even if legally he is president," Francisco Barahona, a political science professor at the University of Costa Rica, said before the vote.
The son of a shoemaker turned small businessman, Solis studied history at the University of Costa Rica and obtained a master's degree in Latin American studies at Tulane University in the United States. He also has taught at Florida International University and at the University of Michigan.
Back home, he taught at local universities and worked in the country's Foreign Ministry at the time when President Oscar Arias was helping mediate an end to Central America's civil wars. He later served as an ambassador and as secretary general of the National Liberation Party.
Solis quit the party in 2005, complaining of corruption, and went back into teaching. He joined Citizen Action only in 2009.
The popularity of Araya's National Liberation party has been eroded by corruption allegations and discontent over high unemployment under Chinchilla's administration.