Vietnam's scandal-hit shipbuilder to fire 14,000 staff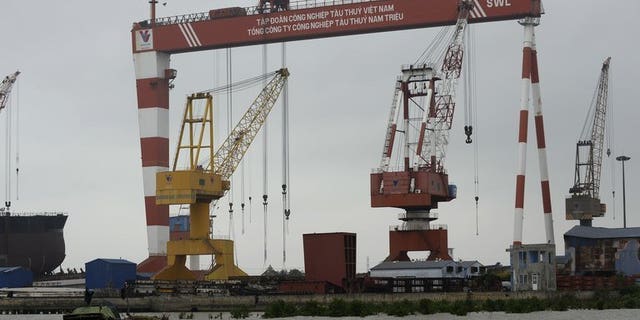 HANOI (AFP) – Vietnam's debt-swamped state-run shipbuilder Vinashin has said it will axe some 14,000 jobs as part of a restructuring that will see it shed 70 percent of its workforce.
The company collapsed in 2010 under $4 billion in debts, triggering investor alarm over the health of other key state-owned firms and leading to a downgrade of the communist country's credit rating.
Vinashin currently employs some 26,000 staff -- less than half the number in 2008 -- but said it had a "plan to restructure its labour, keeping about 8,000 people", in a statement on its website posted Monday.
The firm, which expanded into areas from real estate to electricity generation before it toppled under vast debts, said paying off staff was "not simple" because of a lack of funds.
While the company will lose a total of 18,000 workers in the process, it only specified that 14,000 staff -- many of whom already have no work -- would lose their jobs. It did not give details of the further 4,000.
State-run Lao Dong newspaper said Thursday the cuts were a blow to the group's skilled workforce, who bore no responsibility for its collapse.
Vinashin "used to be given preferential treatment to overcome difficulties. So why is there no plan to help 14,000 employees, redundant due to irresponsible and corrupt officials?" it said.
Before its collapse Vinashin, officially known as Vietnam Shipbuilding Industry Group, was seen as a new model state-owned enterprise that would lead Vietnam's efforts to compete on a global stage.
The company's near-bankruptcy -- as well as scandals at other state-owned firms -- caused turbulence in Vietnam, which has seen its economic dreams sour in recent years.
Nearly a dozen executives were jailed in 2012 and the Vinashin case piled pressure on Prime Minister Nguyen Tan Dung, who appointed the disgraced chief executive and was later forced to accept responsibility for the group's failings.
Vinashin did not specify how long the restructuring would take, but said it would be in two stages.
Economist Jonathan Pincus, dean of the Fulbright Economics Teaching Programme in Ho Chi Minh City, said it was "hard to know... where the job cuts are falling hardest and how it relates to disinvestment in their highly diversified conglomerate".
"Are they focusing on ship building and giving up the other things? Are they consolidating their shipyards? If yes, then it is a positive development," he said.