Veteran Houston Cop charged with trafficking cocaine and helping Zetas drug cartel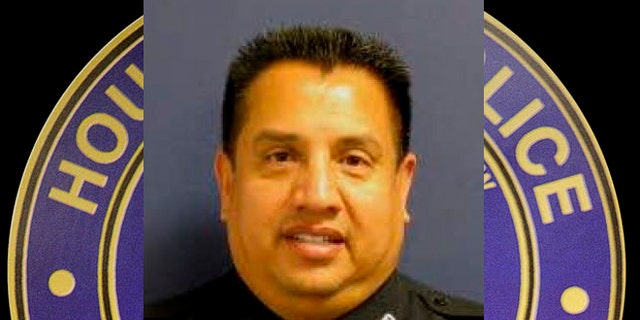 NEWYou can now listen to Fox News articles!
A longtime Houston police officer allegedly had deep connections to one of Mexico's most-feared drug cartels – purportedly selling the organized crime group firearms, cars and possibly information from police computer files.
Noe Juarez, a 46-year-old Houston cop, was arrested earlier this month in a joint operation by the FBI and the Drug Enforcement Administration on charges that he trafficked at least five kilos of cocaine and used firearms to assist in the drug-trafficking conspiracy.
The testimony from the 20-year veteran of the Houston police force came during a bond hearing on Monday when FBI agent Jose Garcia showed a video secretly recorded in 2011 that features a uniformed Juarez handing over two assault rifles to a government informant he allegedly thought was a major drug trafficker. Juarez – who later supplied ammunition, magazines and pepper spray to the government informant – received a total of $4,500 for the guns and was told they were being sent to Mexico, according to Garcia's testimony.
Later in 2011, Juarez also allegedly provided the government informant with information about two license plate numbers that the informant claimed owed $800,000 in drug money. Juarez has denied providing the information.
Federal agents claim that Juarez was connected as a "straw buyer" for Efrain and Sergio Grimaldo, buying and insuring automobiles for the convicted trafficker's henchmen. The Grimaldo's were both members of the powerful Los Zetas drug cartel.
Efrain Grimaldo was sentenced last September to 33 years in federal prison by a New Orleans judge for smuggling 1,640 kilograms of cocaine that hit the streets in Jackson, Mississippi, Pensacola, Florida, New York City, Detroit, Baltimore, Maryland, Dover, Delaware and Houma, Louisiana. Prosecutors allege the two brothers were the primary suppliers of cocaine to a violent street gang named "Up Da Bayou Boys" (UBB) in Houma.
Sergio Grimaldo was indicted along with Juarez and awaits trial on the charge of conspiracy to distribute cocaine.
Despite the evidence against him, Juarez's attorney, George Murphy, says that the prosecution's case against the purported crooked cop is thin.
"The government's case is weak in proving that Noe knew these guys were drug dealers," Murphy said after the hearing, according to the Houston Chronicle. "It's not illegal to buy a car for somebody, and it's not illegal to sell someone a gun. All of the weapons talked about in the court today were legal weapons, and all of the people he sold the guns to were American citizens, who had the lawful right to bear arms."
Despite pleas from federal prosecutors, U.S. Magistrate Frances Stacy ordered Juarez released on a $50,000 bond and gave the government 24 hours to appeal the decision to the district court in New Orleans.
The Houston Police Department has remained relatively quiet on the scandal, saying that the police department union's legal division is not representing him because the charges do not relate to his police duties and that the department aided in his arrest.
"If it turns out the allegations are true, it's extremely troubling," Ray Hunt, president of the Houston Police Officer's Union. "Any time an officer is accused of something as serious as this, it's extremely troubling not just to us but everyone wearing a uniform," Hunt said. "When a police officer crosses a line and violates the trust given by the public, it tarnishes the reputation of all police officers."
Like us on Facebook
Follow us on Twitter & Instagram