Venezuela's Maduro to provide guns to 400,000 loyalists amid peaking tension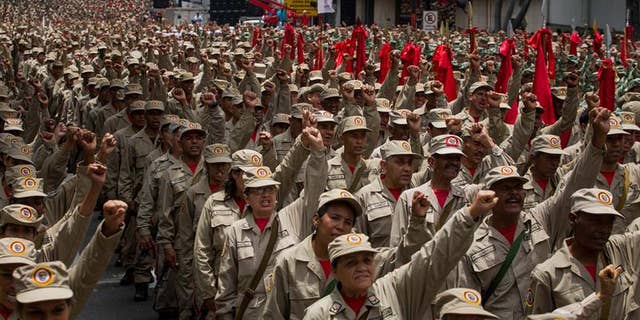 Venezuelan President Nicolas Maduro said he will expand the number of civilians involved in armed militias, providing guns to as many as 400,000 loyalists.
The announcement came as Maduro's opponents are gearing up for what they pledge will be the largest rally yet to press for elections and a host of other demands Wednesday.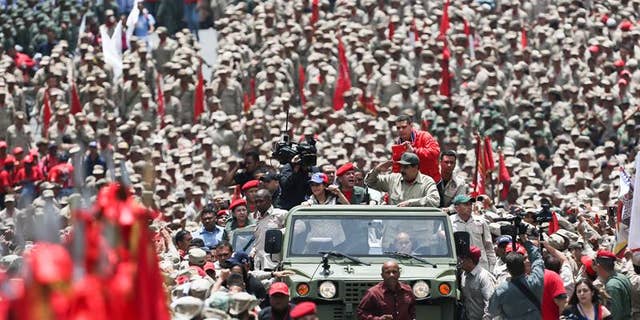 The Bolivarian militias, currently at approximately 100,000, were created by the late Hugo Chavez to assist the armed forces in the defense of his revolution from external and domestic attacks.
Speaking to thousands of militia members dressed in beige uniforms gathered in front of the presidential palace, Maduro said that vision remains relevant as Venezuela continues to face "imperialist aggression."
"A gun for every militiaman!" he cried.
VENEZUELA PROTESTERS THROW EGGS, OBJECTS AT PRESIDENT DURING RALLY AS UNREST GROWS
Maduro's government claims foreign-backed opposition leaders are fomenting violence in an attempt to remove him from power. The opposition denies that assertion, saying it is Maduro himself who is responsible for Venezuela's woes, including triple-digit inflation, rising crime and food shortages.
They also blame Maduro for ordering security forces to use tear gas against protesters and failing to stop pro-government armed groups from attacking demonstrators.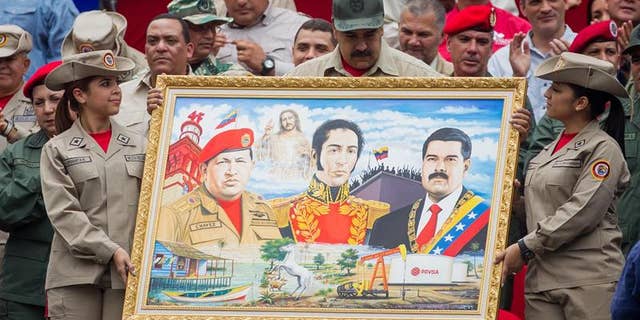 During the act, Defense Minister Vladimir Padrino Lopez read a text saying the country is living a "crucial situation."
"The excessive ambition of [our] enemies threatens the peace and stability by carrying out a criminal agenda loaded with hate that includes terrorist acts, disturbances, looting, vandalism, different forms of violence against innocent people and public health facilities," Padrino said.
The defense chief said that the violent acts perpetrated during recent opposition protests, which to date have resulted in six deaths and about 100 arrests, are geared toward creating "anxiety in the public, anarchy and chaos, with the ignoble aim of toppling the democratic government."
AP and EFE contributed to this report.