Venezuela's Maduro blames US 'cyberattacks' for massive power outage as lights slowly turn back on
The embattled Venezuelan government ordered schools and public offices to remain closed Monday -- the fifth day of a massive, paralyzing blackout that's led to ransacked supermarkets, cars flooding the few working gas stations and unconfirmed reports of at least 17 deaths in powerless medical facilities.
Doctors were caring for their most critically ill patients with the help of generators, but many hospitals were forced to operate without power, raising concerns about vulnerable patients who rely on oxygen concentrators, dialysis machines and other equipment requiring electricity.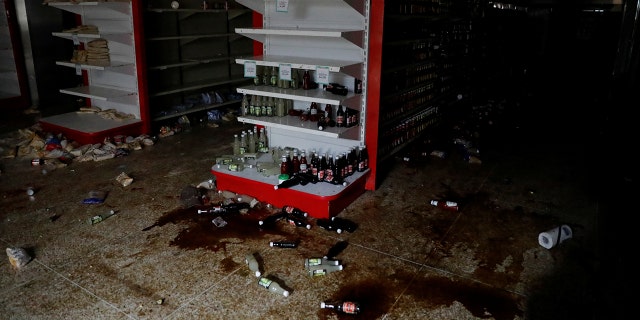 Embattled socialist leader President Nicolas Maduro – who is facing a challenge to his rule by the leader of the opposition-led National Assembly, Juan Guaido – blamed the blackouts on an act of "sabotage" at the Guri hydroelectric dam carried out by the United States.
"The national electrical system has been subject to multiple cyberattacks," he tweeted Sunday. "However, we are making huge efforts to restore stable and definitive supply in the coming hours."
DOUGLAS MACKINNON: HERE'S WHY TRUMP AND RUBIO DESERVE A NOBEL PEACE PRIZE
He also posted a video that showed him with a two-way radio, purportedly talking to military commanders and governors. He said the "macabre strategy" to make Venezuelans desperate and cause them to turn against each other -- or against Maduro -- would fail.
The country's worst-ever power outrage comes as Maduro faces a hyperinflationary economic collapse and unprecedented political turmoil.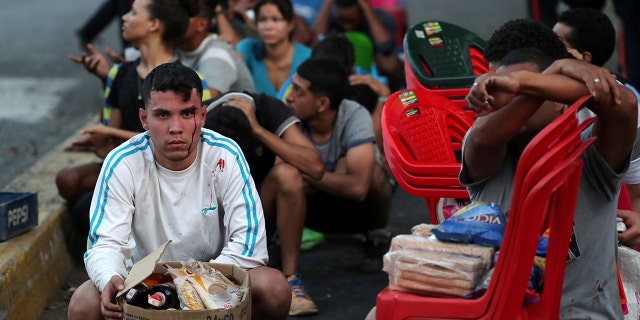 Angry residents in the Caracas neighborhood of Chacao on Sunday set up barricades along a main avenue and on side streets to protest the continued blackout, Reuters reported.
"The food we had in our refrigerators has spoiled, businesses are closed, there's no communication, not even by cell phone," said Ana Cerrato, a 49-year-old merchant who stood in front of a pile of razor wire and debris. "We need help! We are in a humanitarian crisis!"
VENEZUELA IN CHAOS AFTER MASSIVE POWER OUTAGE, MADURO'S REGIME BLAMES MARCO RUBIO
State oil company PDVSA said on Sunday that fuel supplies were guaranteed. But only around 100 of the country's 1,800 service stations were operating due to the blackout, Reuters reported.
Defense Minister Vladimir Padrino Lopez said the military had deployed to protect Venezuela's power installations from alleged saboteurs.
"We know who's behind all this," Padrino Lopez said, echoing the government line that the U.S. staged cyberattacks on Venezuela's infrastructure. U.S. officials have dismissed the allegation.
Meanwhile, Guaido accused the government of covering up the impact of the power cuts on the sick, saying there have been at least 17 deaths of hospital patients – 15 of them in the city of Maturin. He cited reports saying the deaths were related to the outages but did not provide details.
Independent confirmation of the alleged deaths was not immediately available.
AMERICAN JOURNALIST DETAINED BY VENEZUELAN OFFICERS THEN FREED TALKS ABOUT DETENTION
The United States and about 50 other nations support Guaido's claim that he is the interim president and that Maduro should resign so elections can be held and the more than 3 million Venezuelans who have fled their troubled country can start to return. Maduro, who counts Russia and Cuba as allies, says Guaido is a collaborator in a U.S.-led coup.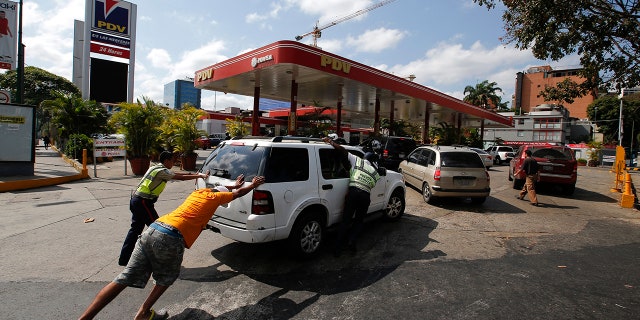 Florida congresswomen Debbie Wasserman Schultz and Donna Shalala met with the president of Colombia and saw where blockades were preventing humanitarian aid from getting to Venezuela during a visit to the Colombian-Venezuelan border.
CLICK HERE TO GET THE FOX NEWS APP
The Democrats' districts have some of the largest populations of Venezuelans and Colombians in the United States.
The Associated Press contributed to this report.