Venezuelan opposition leaders say they've been banned from leaving country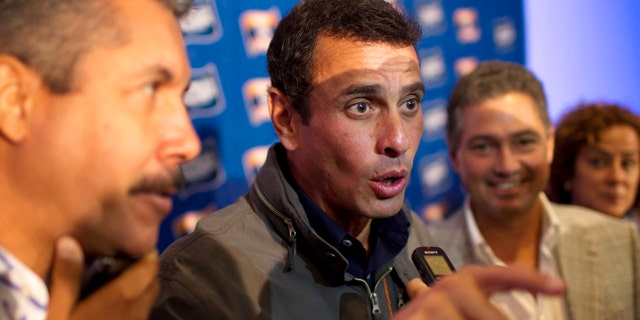 Adding insult to injury, opposition leaders in Venezuela say that – just hours after the country's electoral authority suspended a recall drive against President Nicolás Maduro – they have been banned from leaving the troubled South American nation.
Numerous opposition figures have published a document allegedly from a court in the state of Valencia ordering eight people, including opposition coalition leader Jesus Torrealba and twice-presidential candidate Henrique Capriles, to stay in the country. The document, which has only been made public by opposition forces in Venezuela, did not give a reason for the ban.
The ban was widely mocked and criticized by opposition groups in the country, with Torrealba calling it "gratuitous aggression."
"They are wasting their time once again. Wait to hear what we have to say in the next few hours," tweeted Capriles, who has been at the forefront of the campaign for a referendum against Maduro.
While no reason was given for the ban, there is speculation that it may stem from fraud allegations in a preliminary signature-gathering effort.
There is also the belief that the fraud allegations were used as justification for blocking the opposition from proceeding to the next stage of its push to hold a referendum on Maduro's removal. His critics blame the late President Hugo Chávez's heir for Venezuela's economic collapse, bare store shelves and the jailing of opposition leaders.
Critics of Venezuela's 17-year left-wing administration have made the recall their central political issue after being sidelined in Congress and in virtually all other public institutions. But the campaign had already become mostly symbolic after election officials in September said no vote would take place this year.
Polls say a majority of Venezuelans want Maduro gone. The opposition charges that in the face of overwhelming voter discontent, the socialist party has simply decided to put off elections indefinitely.
The opposition staged its largest street demonstration in years on Sept. 1, with a rally in Caracas demanding a referendum against Maduro be held in 2016. But apart from that protest, most anti-government rallies this year have been relatively small and quick to disperse.
On Thursday night, hard-line leaders started calling for more massive street protests in the face of the election authority's ruling.
"This is the time for national unity," wrote former presidential candidate Maria Corina Machado on her Twitter account. "Every single person must take to the streets, with strength and without fear, to make the transition a reality."