Venezuelan leaders welcome new U.S. sanctions, say Washington's role is pivotal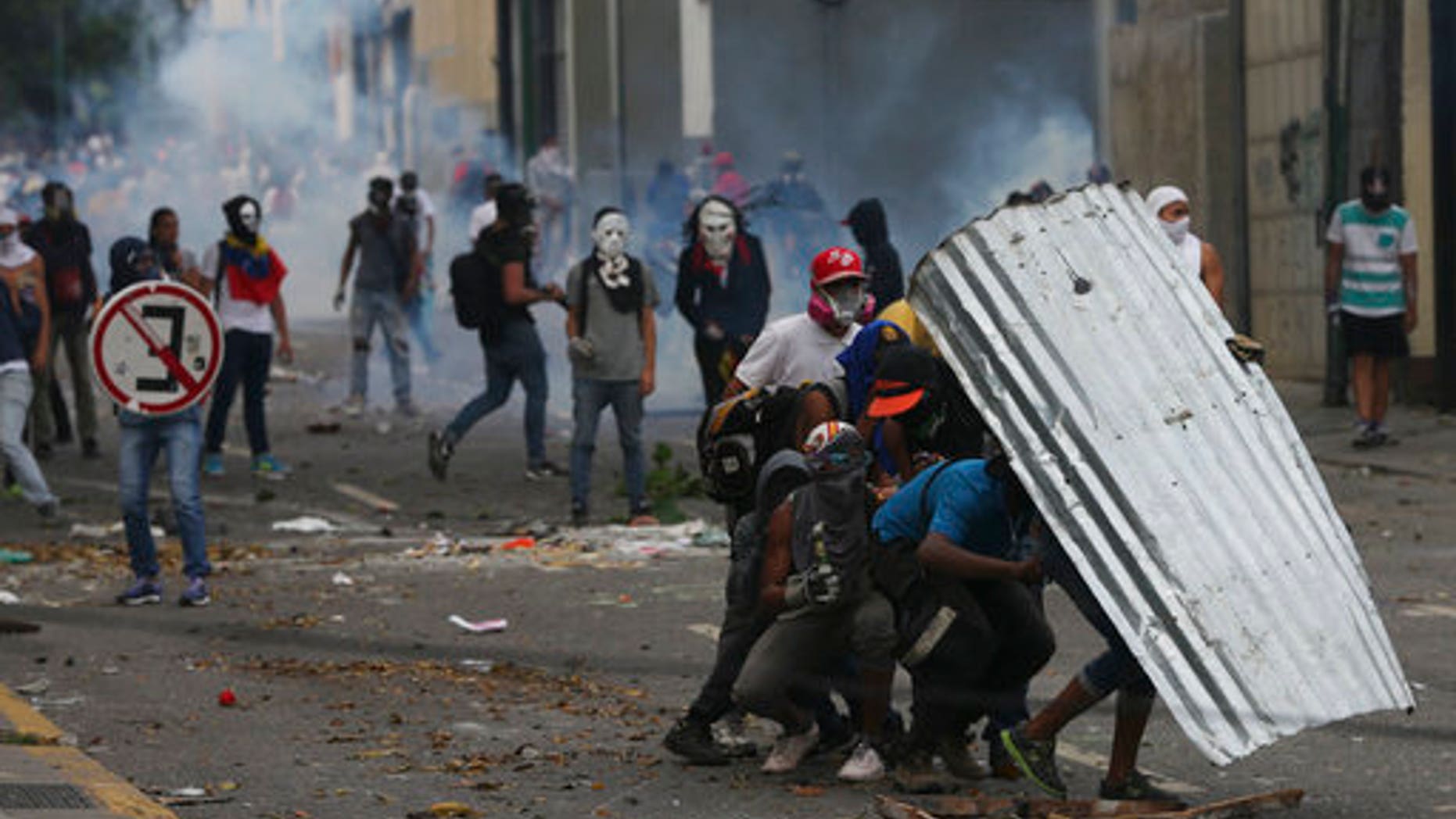 CARACAS, VENEZUELA – As the political crisis in Venezuela intensifies by the day, sinking it further into social and financial turmoil, a group of U.S. senators is filing legislation on Wednesday toughening sanctions against corrupt officials and providing financial assistance to the starving country.
The bill would provide $10 million in humanitarian aid, require the State Department to coordinate a regional effort to ease the crisis, and ask U.S. intelligence to report on the involvement of Venezuelan government officials in corruption and the drug trade.
At least 29 people have died in the unrest of the past month and hundreds have been injured. Opposition leaders organized another major march Wednesday, seeking to keep the heat on the socialist government of Nicolas Maduro.
U.S. officials have long been reluctant to be too vocal about Venezuela, but political analysts and opposition leaders say Washington's role is now decisive.
AP NEWS GUIDE: HOW DID THINGS GET SO BAD IN VENEZUELA?
"The U.S. support in the discussion and encouragement of diplomatic efforts in the Venezuelan case is crucial, especially now that Venezuela can't help [financially] the Caribbean countries as it did before and begins to depend more on the United States," internationalist Mariano De Alba told Fox News.
Maduro began the week by signing a decree to begin the process of rewriting Venezuela's constitution, which critics say is a ploy to keep him and his allies in power — the planned "constituent assembly" comes at a time when polls show 74 percent of Venezuelans want a change of government.
"What President Maduro is trying to do yet again is trying to change the rules of the game," Michael Fitzpatrick, deputy assistant secretary of state for Western Hemisphere affairs said Tuesday. "We have deep concerns about the motivation for this constituent assembly, which overrides the will of the Venezuelan people and further erodes Venezuelan democracy."
SON OF TOP CHAVISTA OFFICIAL PUBLICALLY URGES HIM TO HELP STOP BLOODSHED
The push for a new constitution comes days after Venezuela formalized its withdrawal from the Organization of American States, which has been increasingly critical of Maduro's ways.
The U.S., experts say, played an important role in the OAS tougher stance and should use its leverage to gear the South American nation back to a full-fledged democracy.
"The U.S. can play a significant role explaining to the international community that the Venezuela crisis has global implications," said Joseph Humire, director of the Center for a Secure Free Society, to Fox News.
"The same global actors (Iran, China, Russia) that are present in Syria are also present in Venezuela – he said – and the implications of a civil war in Venezuela are the same as in Syria, presenting both a humanitarian and counterterrorism challenge to many countries."
FEARS OF MILITARY-GRADE WEAPONS IN WRONG HANDS AMID VENEZUELA UNREST
Opposition leaders in Caracas also deem U.S. support essential for a peaceful transition after 18 years of "Chavismo," the term used to describe the socialist rule started by late President Hugo Chavez after he was elected in 1999.
"We shouldn't forget that many high level officials have money and properties there, so the U.S. government can be crucial with measures to aid a transition," said National Assembly's Vice President Freddy Guevara to Fox News.
For example, Guevara said, the U.S. could negotiate deals with powerful Chavistas whose frozen assets would be returned if they agree to concede power or call an election.
Assemblywoman and opposition leader Maria Corina Machado told Fox News she celebrated that the administration of Donald Trump has brought to light "the criminal nature of the regime, its links with drug trafficking and dollar laundering."
"Revealing the criminal ties of those in control of the regime has generated fractures within the government and even in the armed forces," she said. "And this could help with a transition."
The proposed U.S. legislation addressing Venezuela's crisis is co-sponsored by Sen. Ben Cardin, the top-ranking Democrat on the Senate Foreign Relations Committee, and Sen. Marco Rubio, who authored earlier sanctions legislation on Venezuela. It also has the support of Sen. John Cornyn, the chamber's No. 2 Republican, former Democratic vice presidential nominee Tim Kaine, as well as Republican Sen. John McCain, chairman of the Senate Armed Services Committee.
The U.S. already has sanctioned several Venezuelan officials, including Vice President Tareck El Aissami in February for allegedly being a major cocaine trafficker.
The AP and Reuters contributed to this report.