Venezuelan court denies release of jailed opposition leader Leopoldo Lopez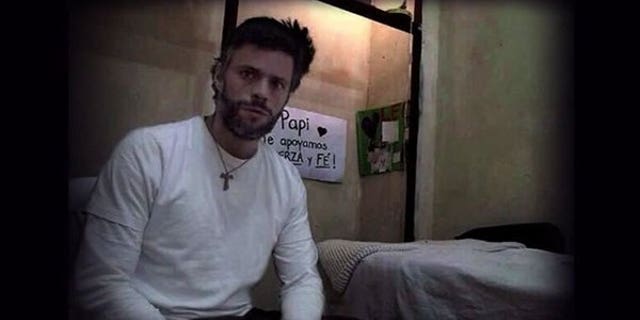 CARACAS, Venezuela (AP) – A Venezuelan appeals court upheld on Friday the nearly 14-year prison sentence imposed on opposition leader Leopoldo Lopez for inciting violence during anti-government protests in 2014, his lawyer said.
Lawyer Juan Carlos Gutierrez told The Associated Press that the "the sentence was upheld on equal terms" as the original conviction. Court officials did not immediately confirm the ruling, which came after three weeks of deliberation.
Lopez, a Harvard-educated former mayor, has denied that he incited violence. International human rights groups consider him South America's highest-profile political prisoner. His conviction has been widely condemned as a sham trial by foreign governments, including the U.S.
But government officials say he was behind a wave of violence that left three people dead and dozens injured during protests against the government of President Nicolas Maduro in February 2014. In the past, they have accused Lopez of collaborating with the U.S. government to stage a coup.
Gutierrez, the lawyer, said he will take the case to the Supreme Justice Tribunal and the United Nations.
Jesus Torrealba, secretary of the opposition Alliance, called the decision "illegal and unjust," adding on her Twitter account that Lopez "will be freed by the vote of the people."
The 45-year-old Lopez has been held for almost 30 months in the Ramo Verde prison outside Caracas.
The ruling comes as the opposition tries to remove the unpopular Maduro from office through a recall vote amid soaring inflation, food shortages and a sharp economic downturn.
In June, Lopez said he would not negotiate for his own freedom if it meant abandoning the effort to recall Maduro this year. His supporters said international leaders engaged in a diplomatic effort to diffuse Venezuela's political crisis had put his release on the table as a possible bargaining chip.
But Lopez said the country's freedom would always come before his own.