Venezuelan cellphone carriers suspend international calls, users innovate to stay connected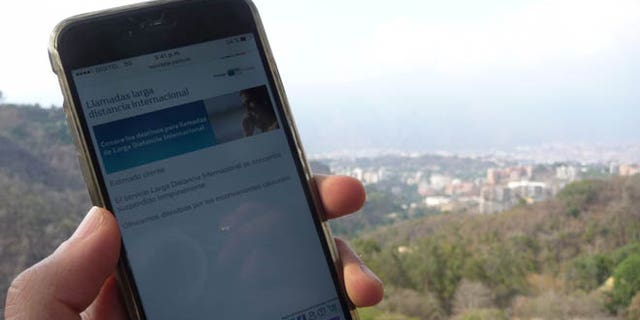 NEWYou can now listen to Fox News articles!
CARACAS – Among the many aspects of daily life impacted by Venezuela's government tight control of the economy is the ability to use a cellphone, as carriers find it increasingly hard to make a profit due to people-oriented regulations they call senseless.
Last week, two of the three cellphone companies that operate in the country suspended all international service after they say the government repeatedly refused requests to increase the fees for international calls.
Movistar and Digitel are now offering local service only, leaving all communication beyond borders to state-owned Movilnet and to an often unreliable landline service provided exclusively by CANTV, also state-owned.
Before the service got suspended on April 16, Digitel was forced to charge just 50.4 bolivars for a one-hour call to the United States. That's just $0.16 at the current legal exchange rate (306 bolivars per dollar) and $0.04 at the black market exchange rate (1,140 bolivars per dollar).
In neighboring Colombia, cellphone carriers charge around $3.6 for a 40-minute call to the U.S. -- more than 200 times Venezuela's fee.
Sources from Movistar Venezuela told Fox News Latino that even providing local service is a challenge in the socialist country.
"The government is also refusing to recalculate the local fees, which need to be increased in at least 60 percent to avoid loss," said a Movistar employee who asked to remain anonymous.
Both Movistar and Digitel are now trying to negotiate a solution directly with the country's vice president Aristobulo Isturiz, as all efforts with Conatel, the agency overseeing communication, seem to be hopelessly stalled.
Records show that Movistar began losing clients steadily a couple of years ago. After a peak of more than 10.1 million subscribers in 2014, company officials say they project to end 2016 with 9.4 million clients at the most.
"The government hasn't released any hard currency to import cellphones since 2014," the Movistar source told FNL. "If we don't have equipment to sell, we can't add new clients," the source added.
The latest phones circulating these days in Caracas and other cities are 2013 models, except for the very few people who bought equipment overseas.
Meanwhile, average Venezuelans are increasingly impatient for a return to normalcy, even if that means paying higher bills.
It's become a struggle for families to contact their loved ones abroad, and businesses working with international clients need to work extra hard and creatively if they want to stay relevant in the global economy.
Just among Movistar clients, more than 400,000 people used to make international calls regularly.
"I am used to making international calls from my cellphone several times a month. My wife is working in Peru and I also contact my editors in Spain many times each week," said Alfredo Meza, a news correspondent for Spanish newspaper El País.
"Now I have to use Skype or WhatsApp. It works when you have a Wi-Fi connection, but the service is not so good if you don't," Meza added.
Other people are beginning to turn to other web applications for calls, like Magic Jack. But all these require a high-speed Internet connection, which is also a rarity in Venezuela.
Eugenio Martinez, a political consultant who needs to call different Latin American countries on a regular basis, was forced to think about other solutions because he is not authorized to make Internet calls -- he bought a prepaid line from a foreign carrier and used it with roaming. He said it works, but it is really expensive.
"Updating the fees to its real value will always be the best thing for carriers and for us as clients", he said.