US troops deployed in Eastern Europe as check on Russian aggression
NEWYou can now listen to Fox News articles!
U.S. troops in Eastern Europe are relearning Cold War-era fighting tactics to keep Russian aggression in the region in check -- and just in case Cold War 2.0 ever heats up.
A continuous rotation of about 4,000 troops are stationed in Eastern Europe, part of the armored brigade combat team and aviation brigade ordered stationed in the region under former U.S. Secretary of Defense Ash Carter, Fox News confirmed.
The U.S. European Command first announced the additional troop rotations in Eastern Europe in March 2016, citing America's "commitment to increased assurance and deterrence." By February, three fully-manned Army brigades were present in Europe.
TRUMP AND THE RUSSIA INVESTIGATION: WHAT TO KNOW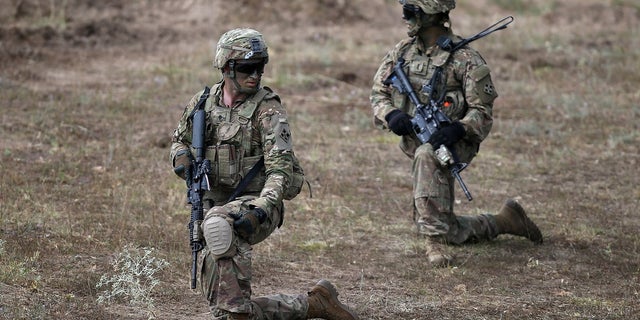 A new Army unit in Eastern Europe is rotated in every nine months, equipped with more modern equipment. But the challenge is adapting to the European terrain, which is not only different, but poses more restrictions than combat in Iraq and Afghanistan, The New York Times reported.
Instead of tanks blending in with the desert sand of the Middle East, the vehicles are being repainted to dark green to match the European greenery. U.S. troops also don't have the freedom to cross borders like they had in Iraq and Afghanistan.
Moscow, a source of concern even before the 2016 presidential election, has only continued poking Western powers and acting as a regional agitator since President Trump took office.
Trump signed a bill imposing stiff financial sanctions on Russia last week, and Russian President Vladimir Putin retaliated by announcing the Kremlin would force the U.S. to cut its embassy and consulate staff in Russia by 755 people -- though the White House believes there are fewer U.S. employees in Russia than the number provided.
The latest tit-for-tat is largely a result of Russia's alleged meddling in the presidential election, but Russian intervention in Ukraine and other destabilizing actions have long been a hallmark of Putin's tenure.
U.S. troops training with European forces recognize the common threat to the East and are coordinating strategies to deter the Russians -- if the time comes, the New York Times reported.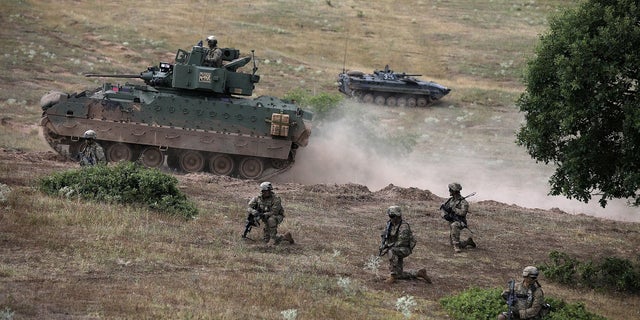 "We know when we wake up every morning who the threat is," Colonel Ellis, who commands the Second Calvary Regiment, said. "We're very focused on the Russian threat."
U.S. and NATO allies in Eastern Europe have combined forces, stepping up training rotations and exercises as air, sea and underwater patrols increase from the Baltic Sea to the Black Sea. The Russian Navy, for its part, has stepped up submarine patrols in the area.
TILLERSON: US TO RESPOND TO RUSSIA'S OUSTER OF DIPLOMATS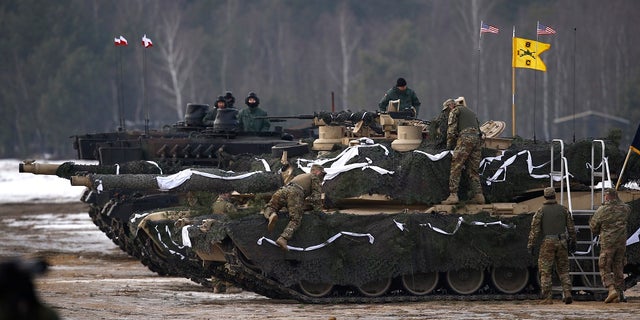 The U.S. military is also including more training about Russian tactics and weaponry at centers in California, Louisiana and Germany. Cold War-era strategies to fight the then-Soviet Army have been updated to apply to Putin's forces, which are equipped with modern technology and equipment.
Later this summer, the U.S. military is also expected to begin a large Russian military exercise in Belarus involving tens of thousands of Russian units. The goal is "speed of assembly" in the Army's ability to gather and move through the region as quickly as possible.
"We have to figure out how to adapt to this new environment," Col. Clair A. Gill, commander of the 10th combat aviation brigade, told The New York Times. "I don't think we're there yet."
Fox News' Lucas Tomlinson contributed to this report.