US, South Korea begin joint military drills against backdrop of family reunions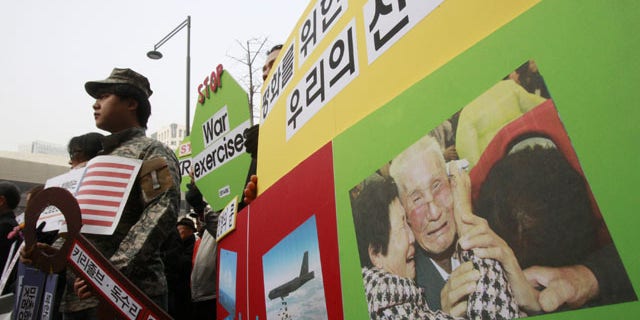 SEOUL, South Korea – A year ago, North Korea vowed nuclear attacks to retaliate for U.S.-South Korean war games. But the start Monday of this year's joint military drills comes as Pyongyang allows wrenching reunions of elderly Koreans separated since the Korean War.
As always with the rival Koreas, cold political calculations loom behind the scenes of pure emotion.
The reasons for Pyongyang's about-face are seen as having more to do with the impoverished country's desire to drive a wedge between Seoul and Washington and its need for money than with concern about the painfully brief reunions of Koreans who haven't seen each other since the war's end in 1953.
"Humanitarianism is not at all what North Korea is about," Scott Snyder, a Korea specialist at the Council on Foreign Relations, wrote in a recent online post. Improvements in ties "always engender doubts about how and when the other shoe will drop."
After a last-minute cancellation of reunions in September, Pyongyang allowed them to go forward this time after recent rare high-level talks with Seoul. The first reunions of North and South Koreans in more than three years have been held despite the refusal by the U.S. and South Korea to cancel what they call routine drills, but which Pyongyang says are preparations for an invasion.
The two sets of drills began Monday as scheduled, but there was no immediate reaction from North Korea's military, according to Seoul's Defense Ministry.
On Sunday, about 360 South Koreans arrived at the North's Diamond Mountain resort to meet dozens of North Korean relatives, the second and final group of Koreans to participate in reunions that began Thursday and end Tuesday. These are the lucky few. Only a fraction of the millions of Koreans separated by the Korean War have been reunited, and there have been no second meetings.
South Korean Lee Yik-kyu, 80, hadn't seen his 83-year-old North Korean brother, Ri In Gyu, since he was taken during the war by North Korean soldiers. The brothers approached each other awkwardly at first on Sunday before embracing and weeping.
"Are you my brother?" Lee asked. "It's Yik-kyu."
Lee told South Korean reporters that his mother grieved Ri In Gyu's loss until she died 18 years ago, often calling out, "In Gyu, are you dead or alive?"
North Korea allowed these reunions, analysts say, largely because it wants increased aid shipments, outside investment and negotiations with Seoul over the resumption of once-lucrative jointly run tours at the Diamond Mountain resort. Those tours were put on hold after a North Korean soldier shot and killed a South Korean tourist in 2008.
After last year's tumult on the Korean Peninsula, which included North Korea's third nuclear test and the last-minute cancellation of the scheduled reunions in September, Pyongyang has this year pursued a charm offensive, albeit one laced with occasional angry rhetoric.
The Koreas have resumed work at a jointly run factory park in the North that Pyongyang had shut down last spring. Seoul also says that this year it has permitted five private groups' aid shipments to the North, worth about $1.4 million.
Even as Pyongyang eases its stance toward Seoul, it has repeatedly accused Washington of engineering efforts to divide the Koreas. The U.S.-South Korean military drills are an attempt by Washington to keep alive a "vicious cycle of escalated tension in the peninsula," the North's official Korean Central News Agency said in a recent commentary.
One of the drills is 11 days of computer-simulated war games involving 5,200 U.S. and 10,000 South Korean soldiers. The second one scheduled to last until April 18 is field training exercises involving 7,500 U.S. and 150,000-200,000 South Korean troops, according to Seoul's Defense Ministry and the U.S. military command in Seoul. The allies didn't disclose details of Monday's drills.