US returns Chinese ex-official on the run for 13 years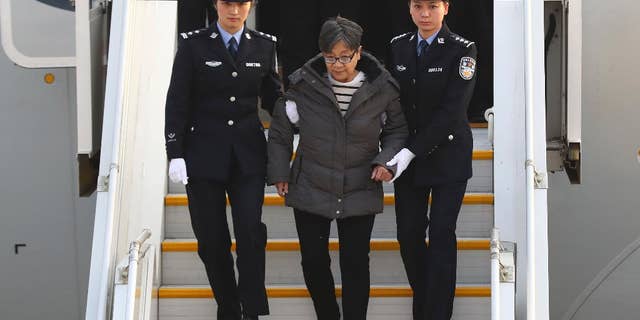 NEWYou can now listen to Fox News articles!
A former vice mayor and China's most-wanted fugitive accused of corruption was arrested after returning from the U.S. on Wednesday in the latest success for President Xi Jinping's battle against graft.
Yang Xiuzhu arrived in Beijing after spending 13 years on the run in countries across Asia, Europe and North America.
FUGITIVE DOCTOR WHO FAKED DEATH PLEADS GUILTY IN LOS ANGELES
A former deputy mayor in the eastern city of Wenzhou, Yang, 70, is wanted in China for allegedly embezzling more than $40 million. She had sat atop the list of China's 100 most-wanted graft suspects who Beijing has asked Interpol to help apprehend.
Yang was immediately taken into custody after being led off a plane by a pair of policewomen. After passing through immigration, she was led into a room where she heard the charges against her read out by a prosecutor and signed a charge sheet.
The entire process was broadcast live on state television.
CHINA SAYS FUGITIVE BUSINESSMAN RETURNS AFTER 15 YEARS
The Communist Party's anti-corruption watchdog says it has taken custody of 37 of the 100 most-wanted graft suspects since launching its "Sky Net" campaign to apprehend them in April 2015. They include both Yang and her brother, businessman Yang Jinjun, who is suspected of graft and bribery and returned to China late last year.
China has also stepped up international law enforcement cooperation to combat possible terrorist threats and fraudsters who target Chinese over the internet and by mobile phone from countries as far flung as Tanzania and Armenia.
A Chinese police official was elected president of Interpol last week, setting off alarm bells among rights advocates who worry about abuses and a lack of transparency within China's legal system. They're also concerned about the potential misuse of the police organization's resources to attack Beijing's political opponents.
U.S. and Chinese diplomats and law enforcement representatives plan to meet in Beijing next week to discuss fighting transnational crime through the China-U.S. Joint Liaison Group on Law Enforcement Cooperation.
With Chinese investigators closing in, Yang Xiuzhu fled first to Hong Kong in 2003, then Singapore, France, the Netherlands and Italy, said the party watchdog, the Central Commission for Discipline Inspection. After her asylum requests were turned down, she fled again to the U.S. in 2014 and filed another petition for asylum, it said.
Authorities used law enforcement and diplomatic efforts to keep the pressure on Yang, and also assured her that she would receive relatively lenient treatment if she turned herself in, the commission said.
Eventually, she withdrew her asylum application and returned to China, the commission said. Media reports also said Yang was in declining health and she hoped for better medical care in China.
The U.S. and China have no extradition treaty so officials requested her return through the Joint Liaison Group, providing evidence that aided in her detention in late 2014, and the freezing of her assets, the commission said.