US-backed Syrian force declares victory over Islamic State; end of caliphate
U.S.-backed Syrian forces declared victory over the Islamic State after announcing Saturday they had liberated the last ISIS stronghold in the eastern village of Baghouz and put an end to its self-declared Islamic caliphate.
"Syrian Democratic Forces declare total elimination of so-called caliphate and %100 territorial defeat of ISIS," Mustafa Bali, a spokesman for the Kurdish-led Syrian Democratic Forces (SDF), wrote on Twitter. "On this unique day, we commemorate thousands of martyrs whose efforts made the victory possible.
"Baghouz is free and the military victory against Daesh has been achieved," Bali added in a separate tweet, referring to ISIS by its Arabic acronym.
LAST ISIS ENCLAVE A SCENE OF 'DEVASTATION:' FOX NEWS VISITS ONLY REMAINING VILLAGE RULED BY TERROR GROUP
The final offensive by SDF forces marks an end to the Islamic State's self-declared caliphate and comes after President Trump said militants no longer control territory in Syria. None of the main surviving ISIS leaders were caught in Baghouz.
French defense minister Florence Parly, however, said in a tweet translated from French that Daesh hadn't disappeared but was in "hiding."
"The last square kilometer of what was called the Daesh Caliphate fell. It's a collective success that all French people have been waiting for. I salute the 1200 soldierrs of Chammal who contributed decisively to this result. 1/2"
"Daesh has no more territory but has not disappeared: the terrorist group went into hiding. We will fight with an equally implacable determination. 2/2."
The offensive saw U.S.-backed forces attacking ISIS, pushing its fighters from house to house and tent to tent against the Euphrates River, according to reports. The battle stretched several weeks and sent thousands fleeing the territory and hundreds killed.
Ciya Kobani, an SDF commander, announced the end of the operation from the rooftop: "We have been victorious against Daesh," he declared.
The SDF has asked the U.S. for support in setting up tribunals to prosecute captured militants. An encampment at Baghouz where ISIS made its last stand was littered with charred vehicles, torn tents and burned trees. Scattered in the dirt were personal belongings, oil barrels, water tanks and other items.
I'VE HUNTED ISIS, AND THEY ARE FAR FROM DONE
At its peak in 2014, ISIS held an area roughly the size of Ohio across Iraq and Syria. The U.S. and Syrian forces have spent five years – spanning two presidencies – fighting to take back territory held by the group. The campaign saw more than 100,000 bombs unleashed and untold numbers of fighter and civilian deaths. While the caliphate has been reduced to zero, the top U.S. commander on the ground in Iraq says the ISIS fight is "far from over."
"The end of the so called physical caliphate is a historic military accomplishment that brought together the largest Coalition in history, but the fight against Daesh and violent extremism is far from over," said U.S. Army Lt. Gen. Paul LaCamera, Combined Joint Task Force-Operation Inherent Resolve commanding general.
"The end of the so-called physical caliphate is a historic military accomplishment that brought together the largest coalition in history, but the fight against Daesh and violent extremism is far from over."
The top Kurdish commander of the U.S.-backed Syrian force said more than 11,000 of their soldiers were killed fighting ISIS. Mazlum Kobone said, "This victory was extremely expensive," referring to the number of soldiers killed and the more than 21,000 wounded.
Since 2015, 17 Americans have been killed in combat fighting ISIS. The first was Delta Force commando Master Sgt. Joshua Wheeler in Iraq in October 2015.
ISIS continues to launch attacks in both countries but no longer holds any territory. During its reign, the group ruled with an iron fist by imposing a harsh version of Islamic law through crucifixions, beheadings and large-scale massacres documented by video and posted online.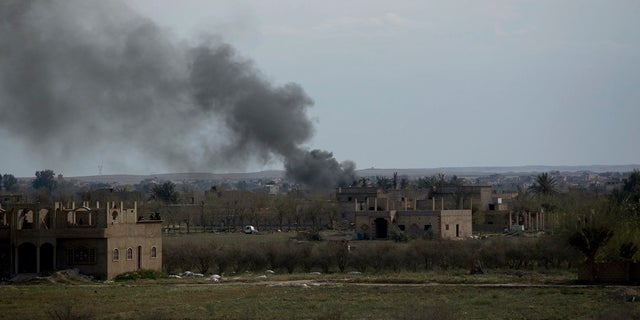 In 2014, ISIS fighters captured thousands of Yazidi women and girls in Iraq's Sinjar region and forced many of them into sexual slavery. Many remain missing.
CLICK HERE TO GET THE FOX NEWS APP
It also acted as a government where it built infrastructure and regulated market prices. The group used its caliphate as a pretext for attacks throughout the world, including Paris in 2015 that killed more than 130 people.
It still maintains affiliates in Egypt, Afghanistan and elsewhere.
Fox News' Lucas Tomlinson contributed to this report.
The Associated Press contributed to this report.