UN's new secretary-general sworn in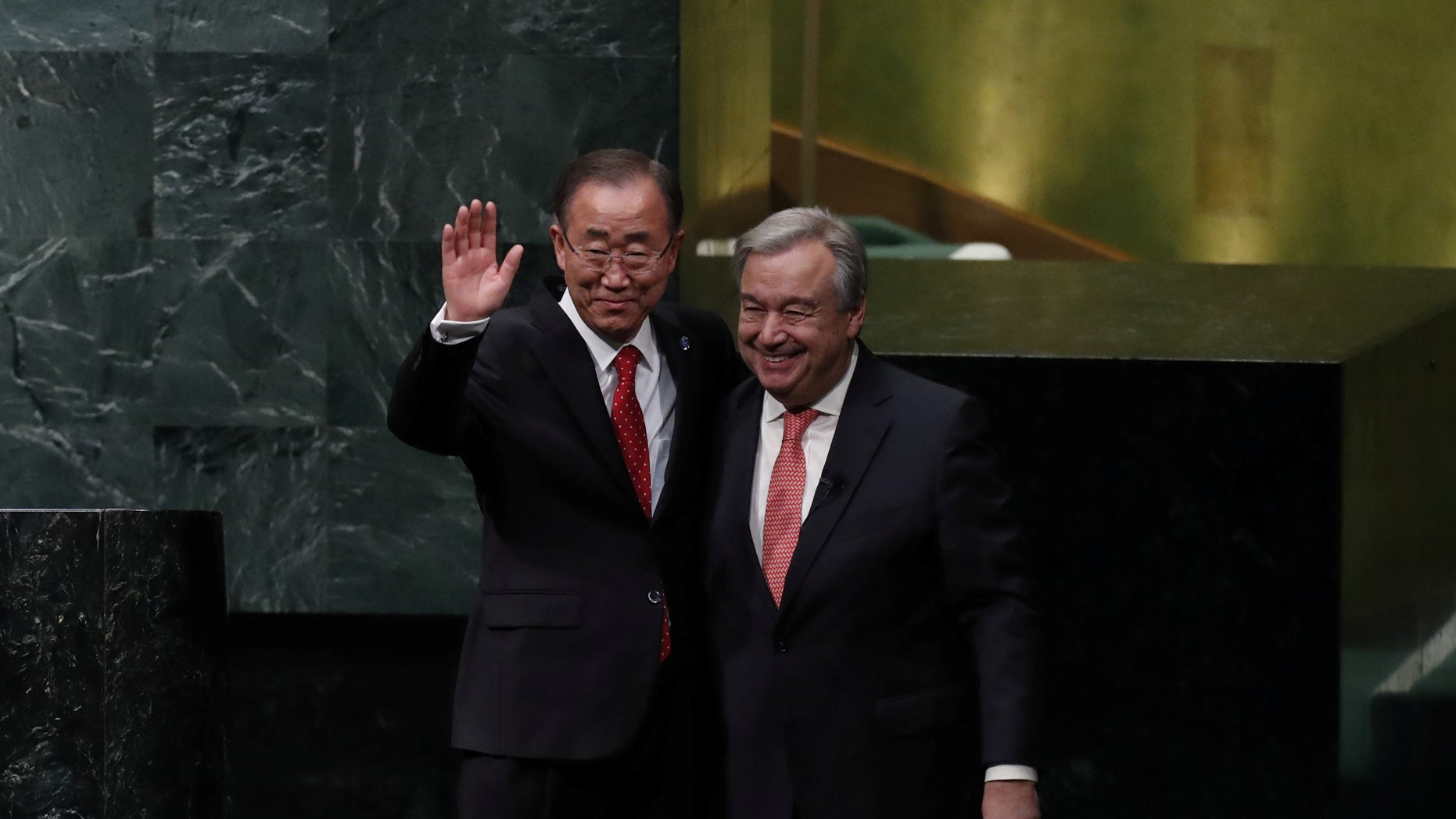 Former Portuguese prime minister Antonio Guterres was sworn in Monday as Secretary-General of the United Nations, becoming the ninth U.N. chief in the body's 71-year history.
Guterres, 67, was a socialist Prime Minister of Portugal from 1995-2002 and the U.N. High Commissioner for Refugees from June 2005-December 2015.
He was appointed by the General Assembly on October 13. After months of competition with candidates from a variety of countries, the Security Council unanimously endorsed Guterres, recommending him to the General assembly for approval. He takes over from Ban Ki-moon on Jan. 1.
SYRIA REBELS NEAR DEFEAT IN ALEPPO
The incoming Trump administration has stirred anxiety at the U.N., which relies on the United States for 22 percent of its operating budget and about 28 percent of the organization's $8 billion peacekeeping operation worldwide. Before and during his presidency, Barack Obama championed multilateralism and often turned to the U.N. to address international crises. Trump has made no such pronouncements.
The future of U.S. participation in the controversial Human Rights Council, UNESCO and other U.N. agencies is also under question. However, his appointment of South Carolina Governor Nikki Haley as the next U.S. ambassador to the U.N. is generally well received, according to a variety of U.N. diplomats who have spoken with Fox.
ISRAEL PM NETANYAHU HOPES TO WORK WITH TRUMP TO UNDO IRAN NUCLEAR DEAL
After being sworn in by General Assembly President Peter Thomson, Guterres addressed the 193 member nations, saying the world body must work to simplify, decentralize and make more flexible its sprawling bureaucracy.
"It benefits no one if takes nine months to deploy a staff member to the field," he said. "The United Nations needs to be nimble, efficient and effective. It must focus more on delivery and less on process, more on people and less on bureaucracy."
Guterres also said he would send a clear signal that gender parity "from top to bottom" within the organization would be among his first priorities.
The swearing-in came after the 193 General Assembly members paid tribute to Ban, ending with a standing ovation for the native South Korean.
The swearing-in ceremony included the U.N.'s top leaders and was attended by dignitaries including Myanmar politician and Nobel peace prize winner Aung San Suu Kyi.
U.S. Ambassador to the U.N. Samantha Power lauded Ban's accomplishments while in office and said she was confident Guterres is the right person to replace him. "He is the man for the job in such challenging times," she said.
The selection of a new secretary-general had traditionally been decided behind closed doors by a few powerful countries. But this year, the process involved public discussions with each candidate who was campaigning for the job.
U.N. chiefs are charged with promoting sustainable development, working for peace around the globe, protecting human rights and dealing with humanitarian catastrophes.
Ban served two five-year terms.
Fox News' Jonathan Wachtel and The Associated Press contributed to this report.