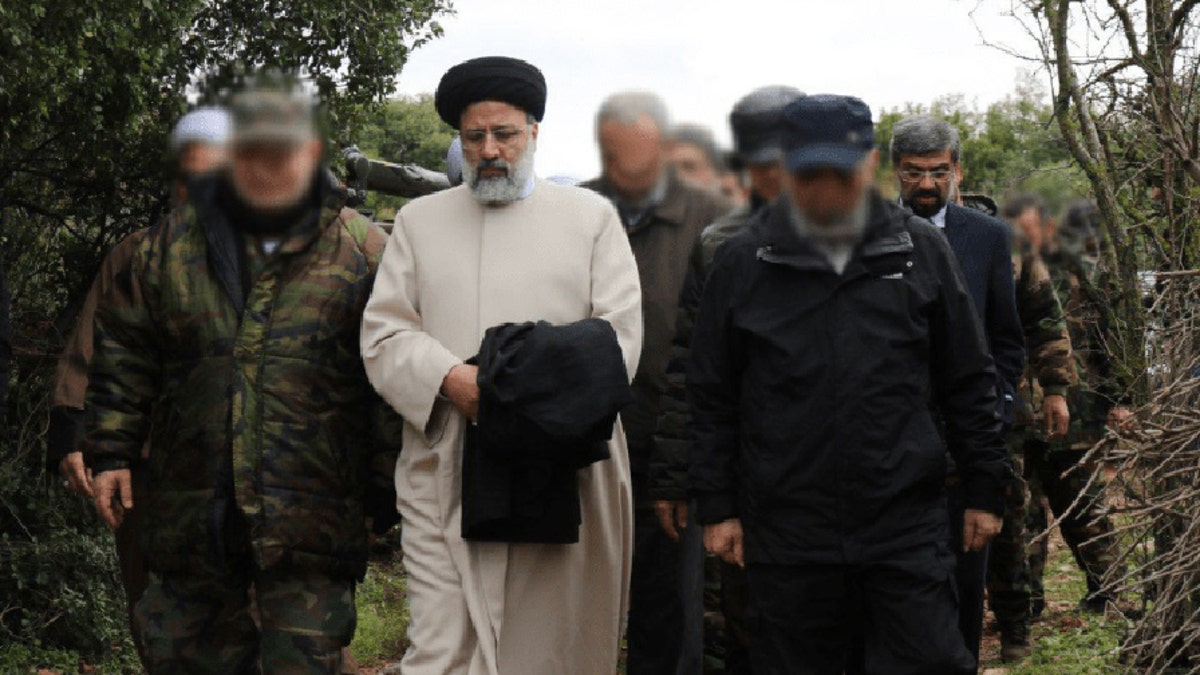 EXCLUSIVE – A new warning on Iran's destabilizing behavior in Lebanon was sent to the United Nations Secretary General and Security Council. The letter, which has been seen by Fox News, warned of the consequences of leaving Hezbollah's actions unchecked by the U.N.
The letter was written by Israel's U.N. Ambassador Danny Danon, and was shown to Fox News by a U.N. diplomat. It warns that continued inaction by the U.N. and the Lebanese government will lead to Iran and its U.S. designated terrorist organization, Hezbollah, further disrupting the region.
The two-page letter describes a recent visit by a senior Iranian official, Ayatollah Ebrahim Raisi, to the Lebanese/Israeli border where he was escorted by Hezbollah officials who were uniformed and armed — which is a blatant violation of U.N. Security Council resolutions. The visit took place within a U.N. buffer zone free of any armed personnel.
The letter refers to pictures on social media showing Raisi inspecting Hezbollah military sites. The letter reports that he made provocative comments about the imminent liberation of Jerusalem, and thanked Hezbollah for its "stand against the Zionist regime."
The letter states in part, " I write, once again, to alert you and members of the Security Council to the dangerous and destabilizing actions taken by Hezbollah, the internationally recognized terrorist organization that serves as an Iranian proxy in our region."
The letter continues, "This visit by Raisi and these other instances are not only blatant violations of Security Council resolutions, but are also further proof of Iranian attempts to destabilize our entire region. These Iranian efforts not only threaten Israelis, but also directly endanger the citizens of Lebanon by putting them on the frontlines where they are sure to pay a painful price resulting from possible future escalations."
Also mentioned in the letter are other visits by senior Iran-supported Shiite groups from Syria and Iraq, including a militia controlled by the Islamic Revolutionary Guard Corps. The letter makes the point that such visits seem to support a speech given by Hezbollah leader Hassan Nasrallah last summer where he stated that the next war with Israel "could see thousands, if not hundreds of thousands of fighters from all over the Arab and Islamic world (coming) to participate — from Iraq, Yemen, Iran, Afghanistan and Pakistan."
Danon emphasizes in the letter that the visit by Raisi took place in an area controlled by the United Nations Interim Force in Lebanon (UNIFIL). The Israeli ambassador's letter says that while Hezbollah violations continue, they've yet to see any response from UNIFIL. This despite the fact that the U.N. force is obligated under U.N. resolutions to report such violations. Danon's letter lists 356 such violations between October 2017 and December 2017.
In recent weeks, the Trump administration has ratcheted up sanctions on Hezbollah. Last week the Office of Foreign Assets Control (OFAC) announced that six individuals and seven entities were put on its list. The list targets terrorists and those providing support to terrorists or acts of terrorism.
Just last year, U.N. Ambassador Nikki Haley warned of Hezbollah's growing strength and criticized UNIFIL and its commander for not understanding the Hezbollah threat to the region calling it "baffling."
Speaking at the Security Council, she said, "At the direction of its patron Iran, the terrorist organization Hezbollah is stockpiling an offensive arsenal in southern Lebanon. They have thousands of missiles and thousands of trained fighters — all beyond the control of the Lebanese government. It is apparent to everyone who cares to see it."
Tony Badran, a research fellow at the nonpartisan Foundation for Defense of Democracies (FDD) research institute in Washington D.C., told Fox News that because of these developments the administration now needs to reassess its Lebanon policy as it could ironically end up aiding Hezbollah.
"The Trump administration should rid itself of the fiction at the heart of the Lebanon policy that the way to weaken Hezbollah is to build up so-called 'state institutions.' This is not an anti-Hezbollah policy. On the contrary, it's a pro-Hezbollah policy. Strengthening a Hezbollah-controlled state is to strengthen Hezbollah."
The Secretary General's spokesman, Farhan Haq, acknowledged to Fox News that the Israeli ambassador's letter was received yesterday. While not commenting on the letter he said the Secretary General, António Guterres, has full confidence in UNIFIL: "The U.N. Interim Force in Lebanon has done a great job over the decades of maintaining a situation of peace and stability in a region where there's a considerable amount of tension and crisis."