UN says 7,000 migrants have crossed into Serbia from Macedonia since Friday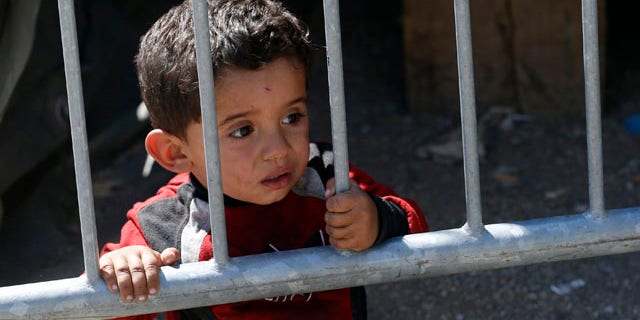 More than 7,000 migrants have crossed into Serbia from Macedonia since Friday, according to the U.N.
After arriving in the small, southern border town of Miratovac, they faced a three-mile walk to a reception centre where they could receive food, medical aid and the documents they need to continue travelling through Serbia.
Those processed by the overcrowded asylum center now have three days to reach northern Serbia on buses and trains.
More than 90,000 people have entered Serbia so far this year, 23,000 of them in the past 14 days.
However, their journey is far from over - and there are fears that a dangerous bottleneck will begin to form in northern Serbia, as the migrants try to cross over the next border into Hungary.
The Hungarian government is racing to complete a barbed-wire fence along its southern side - and at more than 13 feet high, it is meant to ensure migrants only cross over at "designated entry points".
Vincent Cochetel, who directs the U.N.'s refugee agency, has urged the E.U. to do more to help Greece, Macedonia and Serbia – and warned the crisis "will not go away anytime soon".
European Commission President Jean-Claude Juncker has rejected calls for a new summit to discuss immigration, insisting E.U. member states simply needed to implement previously agreed measures.
Last Thursday, Macedonia declared a state of emergency at the busiest entry and exit points for migrants - and warned many refugees were being pressured by armed gangs to pay for transport through the country.
Meanwhile, Italian emergency service workers have said they are alarmed at how many unaccompanied children are making their way across the Mediterranean.
On Monday, 548 migrants were brought to shore at Palermo - and about 130 of them were 14 to 17-year-olds who had travelled alone. They are taken to special holding centres where their specific needs can be addressed.
Off the coast of Greece, at least two men have died and five people are missing after the dinghy they were using to make a crossing from Turkey overturned.
According to the Greek coast guard, 877 people have been picked up in search and rescue operations since Friday, but hundreds more have managed to reach the coast – many in inflatable dinghies.
The migrants making the journey via Turkey, Greece and the Balkans are mostly from Syria, and are trying to reach prosperous European countries including the U.K., Germany, Sweden and the Netherlands.
Tensions have been growing in Germany and Sweden following the influx of migrants.
Around Stockholm, several attacks have been reported. Some refugees had acid thrown at them, while others had their tents and caravans set on fire.
Angela Merkel's spokesman has also condemned far-right protests outside a refugee shelter near Dresden.
Dozens of police officers were injured as they tried to escort asylum seekers into the building, with neo-Nazi mobs throwing fireworks and bottles.
More migrants seek refuge in Germany than any other European country - and the government expects 800,000 to apply for asylum by the end of 2015.