UN probe claims 8 massacres by Assad forces, 1 by Syrian rebels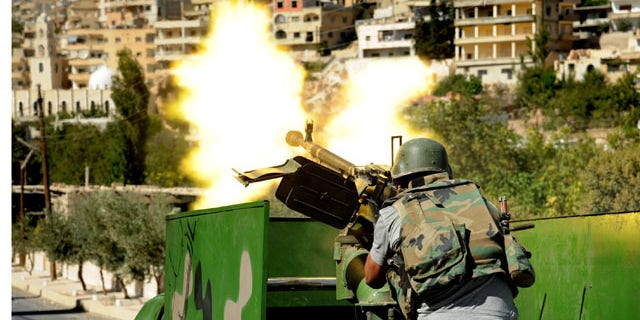 GENEVA – Evidence confirms at least eight massacres have been perpetrated in Syria by President Bashar Assad's regime and supporters and one by rebels over the past year and a half, a U.N. commission said Wednesday.
Calling Syria a battlefield where armed forces are getting away with large-scale murder, the U.N. commission investigating human rights abuses in Syria said that in each of the incidents since April 2012 "the intentional mass killing and identity of the perpetrator were confirmed to the commission's evidentiary standards."
Its latest report Wednesday also notes that the four-member commission is probing nine more suspected mass killings since March. With those, it said, the illegal killing was confirmed but the perpetrator could not yet be identified. In other cases, it said, the circumstances of the killing were not sufficiently clear to be able to determine the legality.
"Relentless shelling has killed thousands of civilians and displaced the populations of entire towns. Massacres and other unlawful killings are perpetrated with impunity," the commission concludes. "An untold number of men, children and women have disappeared. Many are killed in detention; survivors live with physical and mental scars of torture. Hospitals and schools have been bombarded."
The report updates the commission's work since 2011 to mid-July, stopping short of what the United States says was an Aug. 21 chemical weapons attack on rebel-held areas that killed hundreds of civilians. Since the commission has not yet been given permission to carry out its work in Syria, the information in the latest report was based on interviews conducted in the region and from Geneva, including via Skype and telephone.
The commission said it has carried out 2,091 interviews since September 2011. Most of the information is coming from the 2 million Syrian refugees streaming across the borders into neighboring countries.
The commission created by the U.N.'s 47-nation Human Rights Council says both sides have committed heinous war crimes during the 2 1/2-year conflict that has killed over 100,000 people. The council is due to take up the report and the commission plans to hold a news conference next week.
In a statement accompanying the report, the commission chaired by Brazilian diplomat and scholar Paulo Sergio Pinheiro said most casualties result from unlawful attacks using conventional weapons and any response to end the conflict "must be founded upon the protection of civilians."