Ukraine's President Poroshenko says staying out of NATO alliance was a 'criminal' mistake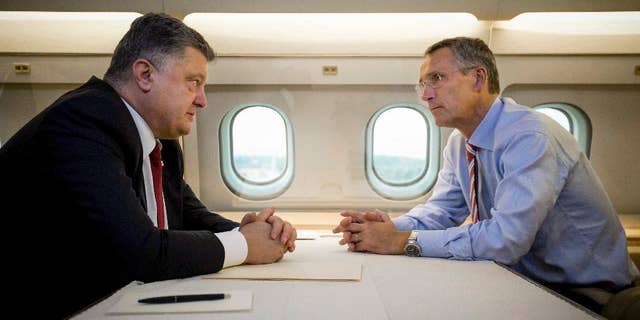 KIEV, Ukraine – Ukrainian President Petro Poroshenko has told the country's security council that staying out of the NATO alliance was a "criminal" policy that his government is ready to reverse.
Ukraine has been fighting with separatist rebels in the east since April 2014 in which more than 8,000 have died. Russia backed the rebels, fearing that the pro-Western course of the new Kiev government will make it a NATO ally.
Poroshenko, who on Tuesday chaired the security council with NATO Secretary-General Jens Stoltenberg in attendance, said he intends to change the decision against joining NATO. He added, however, that it will up to a popular vote to decide on the membership.
NATO officials have made clear that Ukraine needs to enact political, economic, social and military reforms to be considered for membership.