U.S. companies fleeing Venezuela to escape country's collapsing economy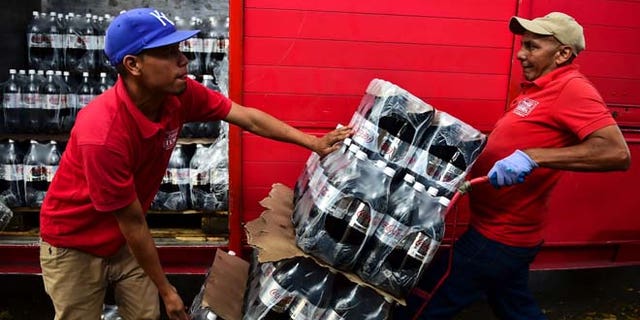 Since 2013, when Nicolas Maduro assumed presidency in Venezuela and plunging oil prices began wreaking havoc on the country, more than a dozen U.S. companies have been forced to sell, stop or reduce their operations in the South American country in order to avoid damage cause by the economic crisis.
In the past three weeks alone, Coca-Cola announced that it had to stop production in the South American country due to a scarcity of sugar, while Bridgestone, a tire company based in Tennessee, decided to sell their assets to local investors and Kimberly Clark, a paper product company based in Texas, reduced its production by 90 percent.
At least 35 companies in the Standards & Poor's 500 have expressed concerns about Venezuela in the past two months and many have discussed removing Venezuela from its global operations, according to an analysis by USA Today.
That has left Venezuela, already reeling from empty supermarket shelves and a lack of basic goods, with a dearth of American products.
The U.S. companies pulling out of Venezuela say they are feeling the squeeze because of the country's hyperinflation.
"The company hasn't received dollars to import raw material since January. About 700 workers had to be suspended. We don't know how much time we can survive like this," Williams Bolivar, head of Kimberly Clark Worker's Union, told Fox News Latino.
Kimberly Clark headquarters are in Irving, Texas, and it produces paper-based products like Huggies diapers, Scott toilet paper and Kotex for feminine hygiene.
Last year, the company reported a $460 million in losses due to currency exchange problems in Venezuela. That caused a 4 percent reduction of its global earnings and hurt its stocks value in Wall Street.
Since then, Kimberly and other major companies like Procter & Gamble, Colgate, Ford, General Motors and Mondelez (Oreo) opted to remove Venezuela from their global operations to avoid a direct impact on the overall company's bottom line.
"That's an option to keep the brand in the Venezuela's market while avoiding possible damage. But it obviously has consequences for the company because the parent office refuses to do any investment or innovations in the country. It also stops credit lines," a source from inside the American-Venezuelan Trade and Industry Chamber, or Venamcham, told FNL.
The chamber would not give an official statement.
The source added that these companies think that Venezuela's situation could improve in the future.
"This was always a great market for U.S. products because it's an oil-rich country where people like to buy quality brands," he said. "That's why they are waiting."
But others already lost patience. Like Bridgestone, General Mills sold its operations in Venezuela to local investors in March.
Mead Johnson, which makes infant formula, said Venezuela was its toughest market. It blamed the Venezuela for its revenues falling 6 percent.
"The unfavorable year-over-year comparison was mainly driven by tough base comparisons in our two largest markets and affecting the quarter itself are significantly reduced shipments to Venezuela," CEO Peter Jakobsen said during a call to investors in April, according to USA Today. "The company's Latin American sales were actually 7% higher if you factor out Venezuela and currency effects…We expect very limited sales in Venezuela."
Since 2013, when Maduro took power, at least eight multinational companies have fled from Venezuela. Four are from the US: General Mills, Bridgestone America, EFCO and Clorox.
The others are from Italy (Alitalia), Canada (Air Canada), Mexico (Gruma) and the United Kingdom (Wonder). Just this week, Chile-based Latam, Latin America's largest airline, announced it was suspending its flights to Venezuela because of the "difficult macroeconomic scenario" affecting the region.
As the economic situation becomes worse, more could follow.
"We know that other U.S. companies are negotiating with local investors," the Venamcham source said.
The buyer of General Mills assets in Venezuela, a company call Lengfeld Inc, is a relatively inexperienced firm and its owners have been linked to the government by the local media.
The biggest problem for foreign companies is that the amount of dollars circulating in Venezuela's economy has reduced dramatically since 2013, prompting a further tightening of currency controls. Multinational companies' revenues remain hopelessly trapped in the local bolivar.
According to local firm Ecoanalitica, the government owes U.S. companies more than $6 billion.
"To get out of this crisis the government should sit and negotiate with private companies to start producing. Other socialists presidents, like Evo Morales in Bolivia, do it," said Alejandro Grisanti, one of the heads of Ecoanalitica.
But Maduro's government is doing the opposite. Last week, they blamed 10 private companies for the country's current shortages.
Alongside with Polar, the biggest Venezuelan company, the list included five US firms: Cargill, Johnson & Johnson, Kimberly Clark, Colgate Palmolive and Procter & Gamble.