U.K.'s Hague in Libya Says Qaddafi Must Be Captured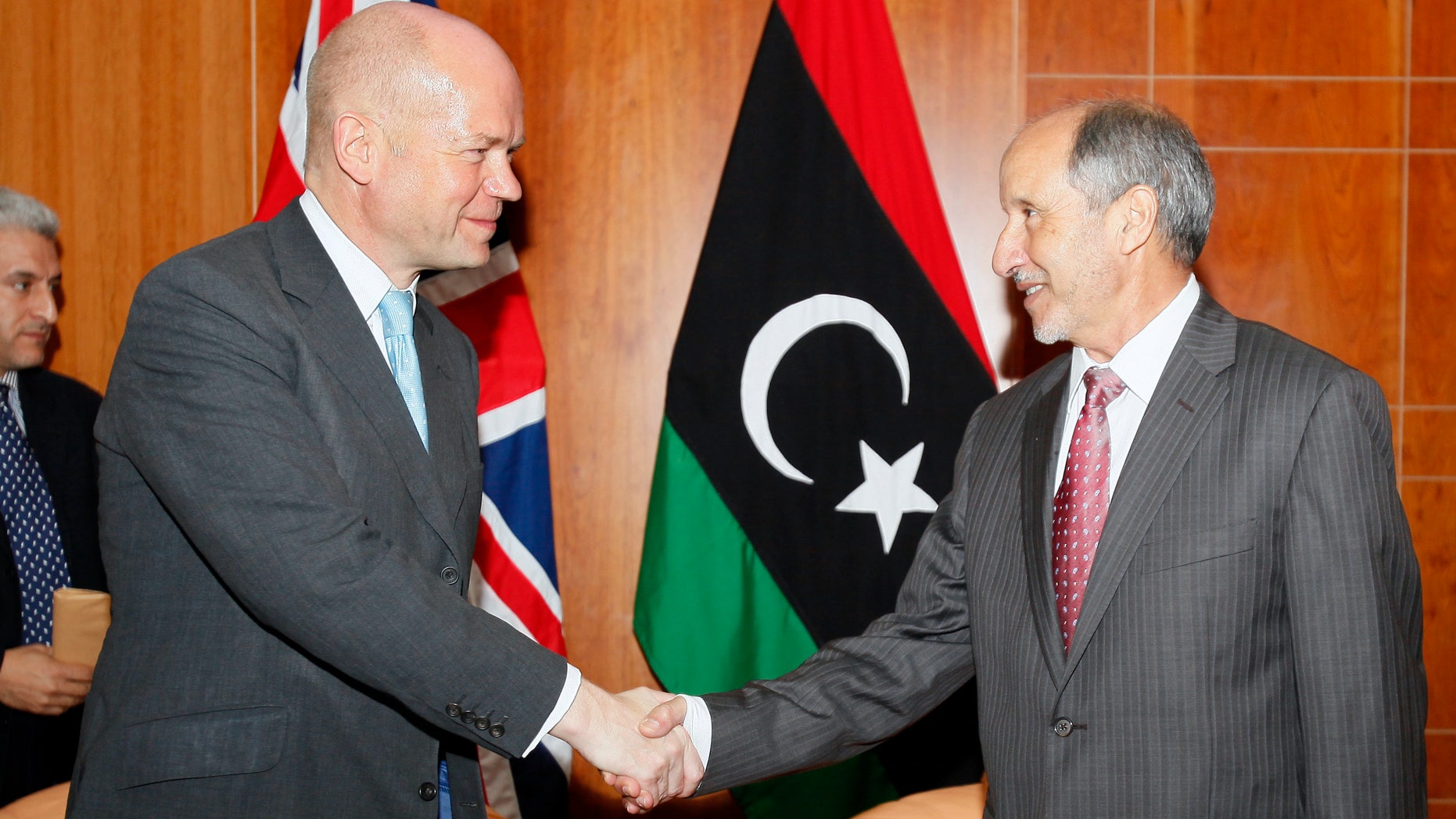 TRIPOLI, Libya -- Britain's foreign secretary called Monday on African countries to turn over wanted senior members of Muammar Qaddafi's regime found on their territory, saying it was very important that the deposed Libyan leader and his associates be brought to justice.
William Hague made the comments during a visit to Tripoli in which he confirmed the new British ambassador and presided over a flag-raising ceremony at Britain's charred embassy building, which had been attacked by Qaddafi supporters angry over NATO airstrikes.
"This is further recognition of the great progress the National Transitional Council has made in stabilizing Libya and re-establishing the country's role as a full member of the international community," Hague told reporters, referring to the body ruling the country in the transitional period.
He also offered more humanitarian aid and raised concerns about reports of human rights abuses by revolutionary forces during a meeting with Libya's interim leader Mustafa Abdul-Jalil.
Qaddafi remains on the run and fighting with his supporters continues on two fronts more than two months after Tripoli fell to revolutionary forces. Some believe he might try to flee to another African country since he cultivated good relations with many of them during his more than four decades in power.
The International Criminal Court has accused the ousted leader along with his son Seif al-Islam and his former intelligence chief Abdullah al-Senoussi of crimes against humanity for unleashing a campaign of murder and torture in an attempt to crush the uprising that broke out in mid-February.
Hague said it was "very, very important" to bring the men to justice and promised Britain would continue to help in the search, although he didn't elaborate on what was being done.
"We've already been very active reminding other countries in Africa of their responsibility, their responsibility to apprehend and to hand over to the Libyans or to the International Criminal Court any of these people who go onto their territory," he said. "Of course we don't know where all of them are but we will continue to assist in looking for them."
Foreign dignitaries have been flocking to the oil-rich North African nation since revolutionary forces swept into Tripoli in late August and seized the reins of power. Britain has taken a lead role in the NATO air campaign that has been critical to the revolutionary successes.
Despite continued airstrikes and several Libyan offensives, Qaddafi's supporters are still putting up a fierce fight for the leader's hometown of Sirte and the desert enclave of Bani Walid. That has prevented Libya's transitional leaders from announcing full liberation and setting a timeline for elections for a new government.
Hague announced that John Jenkins was the new ambassador and expressed confidence in the transitional leadership, saying it was "now on the brink of having liberated the country."
He also said the final shipment of Libyan cash that had been frozen in the United Kingdom because of sanctions imposed on the Qaddafi regime would be returned soon.
With Libyans struggling to care for an overwhelming number of people wounded in the fighting, Britain said it would accept as many as 50 more Libyan amputees needing prosthetic limbs and other medical care. It also offered help in removing mines and destroying shoulder-fired missiles amid fears of weapons proliferation.
Britain said it has allocated 40.6 million pounds ($65 million) to support stability as well as political and economic reforms in Libya.
International rights groups have issued reports documenting cases in which revolutionary forces have mistreated prisoners, especially suspected Qaddafi loyalists. U.N. human rights official Mona Rishmawi said Friday that "there is a lot of room for abuse" of the estimated 7,000 people detained in sometimes makeshift prisons throughout Libya.
Hague said he would raise the issue in his meetings but he expressed confidence Libya's new leaders are committed to stopping such abuses.
"Where there are reports of abuses, they do take action and people are arrested," Hague said, referring to the NTC. "This is very, very different from the old regime of Libya, which itself perpetrated terrible human rights violations."