Two Still Missing After Plane On Medical Flight To Mexico Crashes Off Florida Coast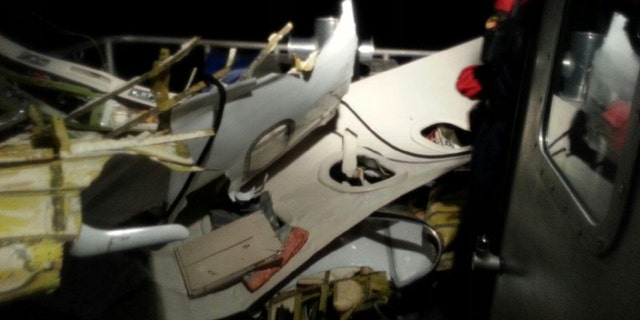 FORT LAUDERDALE, Fla. (AP) – The Coast Guard searched Wednesday for two people aboard a jet that plunged into the Atlantic Ocean off Florida after finding the bodies of two others who were on the medical flight to Mexico.
The Learjet 35 had just dropped a patient off at a South Florida hospital Tuesday night and had taken off from a private terminal at Fort Lauderdale-Hollywood International Airport when it plunged into the water about a mile offshore, authorities said.
Aboard the plane were pilots Jose Hiram Galvan de la O. and Josue Buendía Moreno and passengers Fernando Senties Nieto and Mariana Gonzalez Isunza, according to Mexico's Transportation Department. Mexican officials did not identify which of the people's bodies were found.
Airport spokesman Greg Meyer says the jet, run by AirEvac International, was carrying two pilots, a doctor and a nurse who were returning to Cozumel, Mexico.
In a distress call, the pilot tells the air traffic control tower, "We have an engine failure," and he requests permission to return to the runway.
"We're going to do a 180 and we're going to land," he says. A few minutes later, in response to the tower's instructions, the pilot says, "Mayday, mayday, mayday."
The company that runs the medical transport planes said their focus is on the victims, who had just picked up a patient in Costa Rica and dropped the patient off at a South Florida hospital.
"These are people that are dedicated to saving lives," said Albert Carson, director of operations for AirEvac International.
He said the company had sent documents to the Mexican consulate to try to identify the deceased, a process that continued Wednesday afternoon.
Carson promised there would be an investigation and said the company would be "transparent and open." The company's main bases of operation are in Mexico, Central America and South America and San Diego, Calif., according to its website.
Federal Aviation Administration officials warned of potential problems found in the Learjet 35 in June.
According to the special bulletin, maintenance workers found cracks in the control column on Learjet Model 35A (C-21A) airplanes. Five airplanes were inspected and all five had cracks in the area at the base of the column where it attaches to the floor.
But the concern was not deemed dangerous enough to warrant a further directive, according to the bulletin.
On Wednesday, two Coast Guard cutters, a helicopter and several boats and divers searched a debris field two miles northeast of Fort Lauderdale International Airport trying to locate the remaining victims.
Overnight, rescuers hauled in wreckage from the plane and asked boaters to avoid the area for safety reasons.
"We will search until sunset. That's when we'll have to make a new game plan," said Coast Guard Petty Officer Mark Barney.
The National Transportation Safety Board is investigating.
Follow us on twitter.com/foxnewslatino
Like us at facebook.com/foxnewslatino