Two previously trapped ships break free of Antarctic ice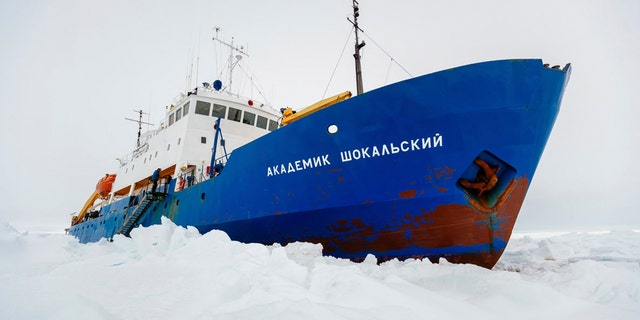 BEIJING – A Russian research ship at the center of an Antarctic rescue drama has broken free from heavy pack ice two weeks after it became trapped, officials confirmed on Wednesday, hours after a Chinese icebreaker that became trapped while trying to help the Akademik Shokalskiy also freed itself and was heading for open waters.
The Akademik Shokalskiy had been trapped in ice-clogged Commonwealth Bay since Christmas Eve, while the Chinese ship that came to its rescue, Xue Long, or Snow Dragon in Chinese, reported last week it too was stuck.
But the Snow Dragon was able to use its helicopter to retrieve 52 scientists, journalists and tourists from the Russian ship. They are now on their way home aboard an Australian icebreaker, Aurora Australis.
The Chinese official Xinhua News Agency reported from the Snow Dragon, with 101 crew aboard, on Tuesday that it successfully escaped after making a 100-degree turn and pushing away the ice, and opening up a channel of water.
Russia's state news agency ITAR-Tass reported that the Akademik Shokalskiy, with its 22 crew who had stayed on board, was making its way out of the dense ice on its own.
The Australian Maritime Safety Authority's Rescue Coordination Centre, which is responsible for rescues in the region, said it was informed early Wednesday that both ships had managed to break free and were making slow progress through lighter ice conditions toward open water.
The center's spokesman Sam Cardwell told the Australian Broadcasting Corp. radio that a shift in the winds "...took the pressure off the ice and allowed them to break free."
A U.S. Coast Guard heavy icebreaker, Polar Star, cut short an Australian stopover on Sunday to head to the rescue of the two icebreakers by clearing a navigational path through Commonwealth Bay. The journey from Sydney was expected to take the 122-meter (399-foot) cutter a week.
The Coast Guard said Wednesday that the Polar Star had now changed its course for Antarctica's Ross Sea to fulfill its original mission.
The Polar Star left its Seattle homeport last month on a mission to break a channel through the sea ice of McMurdo Sound to allow the resupply and refueling of the U.S. Antarctic Program's McMurdo and Amundsen-Scott South Pole stations.
The Australian icebreaker was headed toward Australia's Casey Station, which it will resupply before returning to the Australian state of Tasmania with the 52 passengers from the Akademik Shokalskiy.