Twin of late Polish president to face acting president in July 4 runoff vote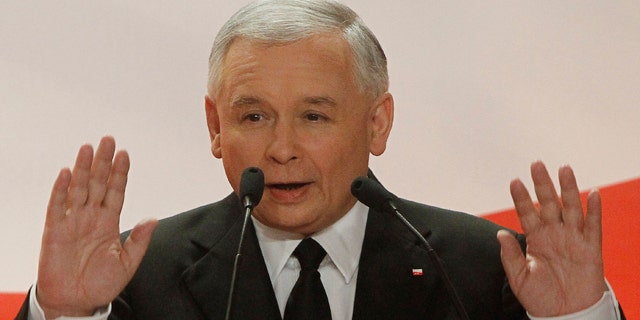 WARSAW, Poland – WARSAW, Poland (AP) — Poland holds a presidential runoff July 4 — and a moderate, pro-European leader who has been acting president since a plane crash killed the incumbent is seen as the likely winner.
But the late leader's euroskeptic twin posted a surprisingly strong second-place finish in voting Sunday that has given him momentum.
Although Poland's president carries out primarily symbolic duties, he can veto laws and has influence on foreign military missions, and the runoff vote is expected to have a significant effect on the country's course.
Interim President Bronislaw Komorowski says he backs Poland adopting the euro in about five years and supports the government's attempts to trim the welfare state. Challenger Jaroslaw Kaczynski, the dead president's twin brother, would put the brakes on privatization and try to keep a larger role for the state in the economy.
The two face off July 4 after neither was able to muster the 50 percent needed for outright victory Sunday in a field of 10 candidates. Komorowski won 41.5 percent of the vote and Kaczynski 36.5 percent.
It was a remarkable showing for Kaczynski, given that just three months ago he was one of the country's least popular politicians. But he has ridden a wave of sympathy after losing his twin brother Lech and sister-in-law Maria in the April 10 plane crash in western Russia that also killed 94 others, including key members of Poland's government and military.
Perhaps more critically, he has also traded in his once-divisive combativeness for a moderate tone.
"(He) changed his public image and turned from a falcon into a dove," said Edmund Wnuk-Lipinski, a prominent political analyst and the dean of Collegium Civitas, a Warsaw university.
Kaczynski's euroskeptic views — in particular his aversion to quick euro adoption — might help him with those concerned about Europe's government debt crisis. But Poland under Prime Minister Donald Tusk has emerged from the economic crisis as the only European nation to see growth and stability, and analysts think the government-linked Komorowski is in a better position to capitalize on that sentiment.
Kaczynski served as prime minister from 2006-2007 during his brother's presidency, and the duo were widely viewed abroad as nationalistic and combative. He was also known for a deep suspicion of Russia and for rooting out from public life former communist apparatchiks.
But since his brother's death, he has made conciliatory gestures to Russians, thanking them for the sympathy they have shown toward Poland after the plane crash. On Sunday night, he also had kind words for Grzegorz Napieralski, the head of the Democratic Left Alliance, heir to the former communist party. Napieralski took third place Sunday and now his votes — nearly 14 percent — are up for grabs.
Napieralski has not yet endorsed either candidate but political experts say most of his young, urban supporters will probably choose Komorowski.
At a campaign rally on Monday, Kaczynski took his message of reconciliation even further. Noting that several left-wing leaders were killed along with his brother, he pledged to no longer refer to the political left as "post-communists" — a derisive term recalling their ideological roots in the communist era.
From now on, he pledged to simply refer to them more neutrally as "the left" — and he even acknowledged that his Law and Justice party is also somewhat to the left on economic issues. "We're not afraid of any accusations — let people say that we are leftists. Maybe we are just a bit," he told supporters in Szczecin.
Kaczynski's strong showing is also certainly due to the lackluster campaign run by Komorowski.
A PBS DGA poll published in the Gazeta Wyborcza daily predicted that Komorowski would win 63 percent of the votes in a runoff and Kaczynski 37 percent. The poll questioned 1,000 people and had a margin of error of plus or minus 3 percentage points.
Political analyst Wojciech Jablonski called Sunday's results a defeat for Komorowski's campaign.
"If they don't breathe life and energy into the campaign, Kaczynski will win, just like in the 2005 elections," Jablonski said.