Tropical Storm Nate kills at least 22 as storm moves toward US
Tropical Storm Nate, which formed Thursday and is projected to possibly hit the U.S. Gulf Coast this weekend as a hurricane, has left at least 22 people dead as it makes its way across Central America.
As of the National Hurricane Center's 8 p.m. ET advisory, Tropical Storm Nate is about 45 miles west of Puerto Lempira, Honduras, and 390 miles south-southeast of Cozumel, Mexico.
With maximum sustained winds of 40 miles per hour, the storm continues to move north-northwest at 10 mph.
"On the forecast track, the center of Nate should move across eastern Honduras this evening and over the northwestern Caribbean Sea tonight and Friday," the Center said.
Rosario Murillo, Nicaragua's vice president, said Thursday that at least 15 people had died in the country due to Nate. Murillo didn't elaborate on many of the deaths, but noted that three people who worked for the Health Ministry were swept away by a flooded canal in Juigalpa.
Nicaragua has seen near-constant rain in recent weeks, which left areas flooded and rivers swollen.
Costa Rican President Luis Guillermo Solis said seven people died in Costa Rica from the tropical storm, which pushed 5,000 people in the country into emergency shelters due to flooding. At least 15 people in Coast Rica remain missing.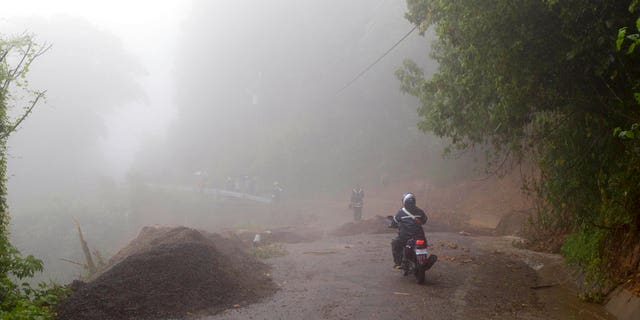 Officials in Louisiana ordered evacuations in part of St. Bernard Parish east of New Orleans, and a voluntary evacuation was ordered early Thursday in Grand Isle, south of New Orleans.
New Orleans Mayor Mitch Landrieu declared a state of emergency Thursday in preparation of Nate's expected arrival in the coming days, noting the tropical storm could make landfall as a Category 1 hurricane.
"To the citizens of New Orleans, there is no reason to panic, but there is reason to prepare," Landrieu said.
Six oil production platforms in New Orleans — out of the 737 manned platforms in the Gulf —had been evacuated as of midday Thursday, according to the Bureau of Safety and Environmental Enforcement's New Orleans office.
No drilling rigs were evacuated, but one movable rig was taken out of the storm's path. The agency estimated less than 15 percent of the current oil production in the Gulf of Mexico has been shut-in, which equates to 254,607 barrels of oil per day.
Louisiana Gov. John Bel Edwards also declared a state of emergency for the state, and said 1,300 National Guard troops are being mobilized, with 15 headed to New Orleans to monitor the fragile pumping system in place there.
Edwards warned residents not to underestimate the storm, and to be where they intend to hunker down by "dark on Saturday."
Tropical Storm Nate's path is forecast to brush across the tip of Mexico's Yucatan Peninsula early Friday night, then later hit the U.S. Gulf Coast as a hurricane by Sunday morning.
Florida Gov. Rick Scott also declared a state of emergency Thursday in 29 counties in anticipation of the storm, which "could still experience torrential rain and the threat of tornadoes in the Panhandle," Scott tweeted.
The Federal Emergency Management Agency (FEMA) said it's preparing for Nate ahead of its potential landfall.
While dealing with the aftermath of hurricanes Harvey, Irma and most recently Maria, FEMA said it's been monitoring the storm with the NHC's help, and urged families to "make a plan" for the possibility of a "disaster" striking.
The official hurricane season doesn't end until November 30, and this year's season might be the strongest yet.
With the amount of storms that formed in the Atlantic this season, "the numbers of named storms forming … during September was near average" and "hurricanes and major hurricanes were both well above average" based on a 30-year climatology, according to the NHC.
September was "the most active on record" — about 3.5 times more active than an average September during that 30-year period — in terms of a measurement called Accumulated Cyclone energy (ACE), which measures combined strength and length of storms, the NHC said.
The Associated Press contributed to this report.