Topless female activist tries to swipe baby Jesus statue from Vatican Nativity scene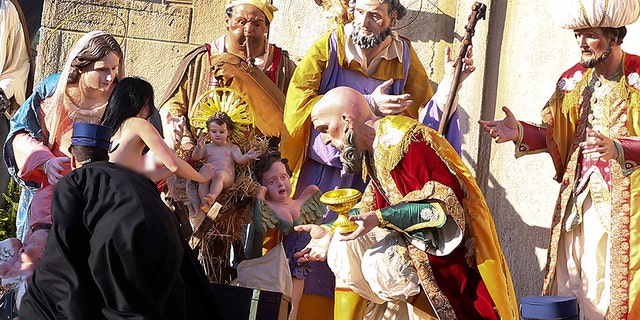 NEWYou can now listen to Fox News articles!
A bizarre scene unfolded in Vatican City on Christmas Day when a topless female activist, while screaming "God is woman," attempted to snatch a baby Jesus statue from a Nativity scene — but was quickly whisked away by police as she lunged for it.
The woman, who also had "God is woman" painted in black on her bare back, was seen jumping over a guardrail and charging toward the Nativity scene in St. Peter's Square, Reuters reported.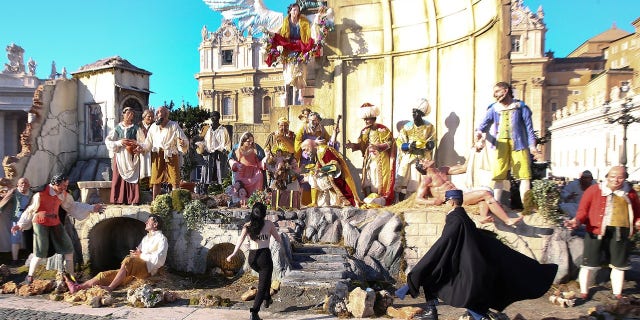 She was later identified as Alisa Vinogradova and a "sextremist" by Femen, a Ukraine activist group whose goal is to gain "complete victory over patriarchy," according to its website. Femen said its mission is "protest" and its weapons are "bare breasts."
"FEMEN considers the anti-war policy of the Vatican a rough medieval attack on the freedom of women and their natural rights," it wrote in its blog about the incident. "FEMEN encourages women to follow the example of the movement and kidnap babies from religious denominations, thus, stating their right to use of their own body!"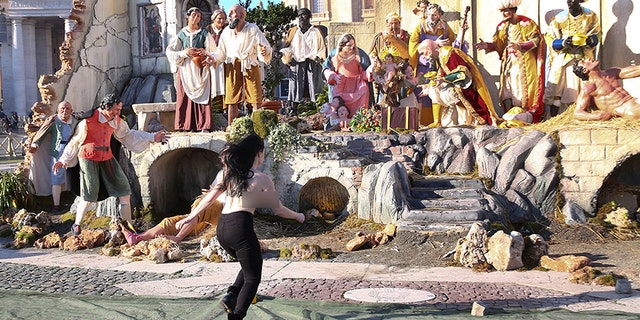 Vinogradova got her hands on the statue, but police caught her before she was able to dash away. She was detained.
The incident happened about two hours before 50,000 people watched Pope Francis give his Christmas message in St. Peter's Square, Reuters reported.
Women with the group have previously staged similar protests, according to Reuters. A Femen activist was able to run away with the baby Jesus statue out of a crib on Christmas Day 2014, but was eventually caught and arrested.