Top Chinese Leader Meets North Korea's Kim Jong Il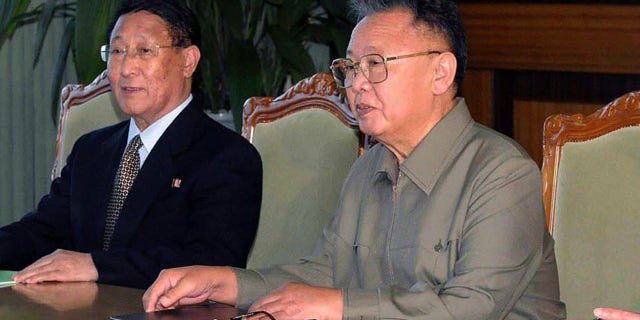 BEIJING – Diplomacy finally showed signs of life on the Korean peninsula Thursday, two weeks after North Korea shelled its neighbor. China got off the sidelines and sent a top envoy to meet with Kim Jong Il, and an American governor whose visits have led to breakthroughs in the past announced a new trip.
As both Koreas continued to carry out military maneuvers, regional powers balanced shows of support for their allies with attempts to negotiate a detente to avert a further escalation of tensions. Four South Koreans died in the Nov. 23 attack on Yeonpyeong Island, the first to target a civilian area since the Korean War.
Chinese State Councilor Dai Bingguo, Beijing's top foreign policy official, turned up in Pyongyang for "warm and friendly" talks with the North's leader Kim on Thursday, the official Korean Central News Agency reported.
The meeting -- shown in photos with the two sharing smiles and handshakes -- comes a day after the top American military officer slammed China for appearing unwilling to wade into the fray. Beijing has called for calm on both sides but has done little to rein in North Korea, despite being the only country that wields any significant influence over the regime.
China fought on North Korea's side during the Korean War, and has remained the nation's only major ally as well as its main supplier of economic aid and diplomatic support.
China's move was met by another promising one from the U.S., which has spent the past two weeks denouncing the shelling, vowing not to reward the North for bad behavior and reiterating its commitment to ally South Korea. New Mexico Gov. Bill Richardson announced that he would travel to North Korea next week.
"If I can contribute to the easing of tension on the peninsula, the trip will be well worth it," the governor said in a statement Wednesday.
While the trip is an unofficial one -- meaning Richardson is not serving as Washington's envoy -- such visits are essentially the only way the two countries can speak. Pyongyang and Washington, which fought on opposite sides of the Korean conflict, do not have diplomatic relations, and the U.S. position is that it won't engage directly with North Korea until it takes concrete steps to dismantle its nuclear program.
In August 2009, former President Bill Clinton's humanitarian mission to rescue two jailed American journalists provided an opening that led to a warming of relations after months of tensions.
"By inviting Richardson, North Korea sent a message to the outside world that it does not want crisis, and it wants to resume six-nation nuclear talks," said Kim Yong-hyun, an expert on North Korean affairs at Seoul's Dongguk University.
Richardson, a former ambassador to the United Nations, has served as a high-profile roving diplomatic envoy for several U.S. presidents. He has nurtured a special interest in North Korea -- and a rapport with top North Korean officials -- over the years.
He has helped win the release of Americans held in North Korea and in 2007 traveled to Pyongyang to recover the remains of U.S. servicemen killed in the 1950-53 Korean War.
In a 2005 autobiography, Richardson wrote that repeated visits led to a mutual trust and respect, even during tense negotiations, and North Korean officials once paid him a visit in New Mexico.
"They apparently thought of me as an honest broker, someone they could trust as a negotiating partner or an intermediary or both," Richardson wrote.
State Department spokesman P.J. Crowley said Richardson would not be carrying any message from the Obama administration, but noted that he would probably be briefed before his trip and report back to Washington upon his return.
The U.S. and South Korea have been staunch allies since the Korean War, which ended in a truce, not a peace treaty. The U.S. keeps 28,500 troops in the South to protect it against aggression.
In the days after the artillery attack, the USS George Washington aircraft carrier headed to Korean waters for joint drills with the South Koreans meant as a show of force and a warning to the North not to strike again.
On Wednesday, the top U.S military official, Joint Chiefs of Staff chairman Adm. Mike Mullen, stood shoulder to shoulder with his South Korean counterpart to make clear that any further "reckless" provocation would not be tolerated.
He also demanded that China act more forcefully to stop North Korean aggression.
"China must lead and guide North Korea to a better future," Mullen said Thursday in Tokyo.
The shelling was the latest in a string of provocations from the North, including an attack on a South Korean warship that killed 46 sailors and an announcement that it was making progress on its nuclear weapons program.
China, the United States, Japan, South Korea and Russia had been negotiating with North Korea on dismantling its nuclear program in exchange for fuel oil and other concessions. However, Pyongyang walked away from the process last year, and recently disclosed a new uranium enrichment facility that could give it a second way to make atomic bombs in addition to plutonium.
The U.S., Japan and South Korea say resuming the talks would only reward North Korea's bad behavior.