The Latest: UN says 30k displaced by Syria Idlib attacks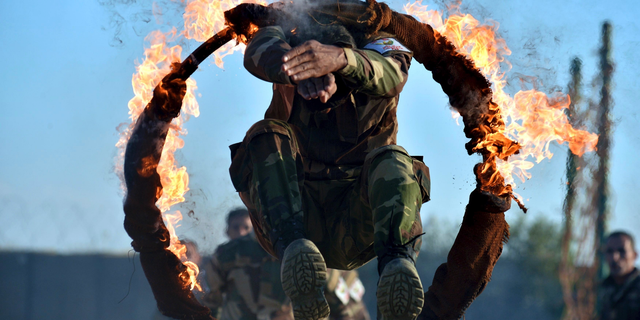 BEIRUT – The Latest on developments in Syria (all times local):
2:40
The United Nations says over 30,000 people have been displaced in nearly two weeks of escalation in attacks on Syria's last rebel bastion in the country's northwest.
The escalation in aerial bombing and shelling of the rebel areas in Idlib and northern Hama have set off alarm bells. The U.N. has warned against a threatened government offensive, which it said could displace as many as 800,000, of which only 100,000 may flee to government-controlled areas, according to the U.N.
Idlib and surrounding areas are home to nearly 3 million people, half of them already displaced by violence in different parts of Syria.
The U.N. Office for the Coordination of Humanitarian Affairs said in a statement late Wednesday that 38,300 were displaced by the violence since Sept. 1, most of them heading toward the Turkish-Syrian borders to already overcrowded displaced persons camps.
Some 4,500 — or 11 percent — returned home spontaneously in the last two days as the violence decreased.
The U.N. said aid groups have put in place an emergency plan for the expected large wave of displacement
___
12 p.m.
Syrian activists are reporting that new military reinforcements have arrived to beef up Turkish observation points inside Syria's last rebel bastion Idlib as a Syrian government offensive looms over the crowded enclave.
The Britain-based Syrian Observatory for Human Rights said Thursday a Turkish convoy entered from Kfar Lusin crossing in northern Idlib, heading to some of the 12 Turkish observations points that ring Idlib. A video shot by activists of the monitoring group Central Station for Turkish Intervention showed armored and gun-mounted vehicles and tanks driving through an Idlib road.
The reinforcements come during a lull in government and Russian bombings of rebel locations on Idlib's southern edge.
Turkey has appealed for a cease-fire in Idlib, which straddles its borders and is home to more than 3 million people.