The Latest: Syrian military video shows Aleppo destruction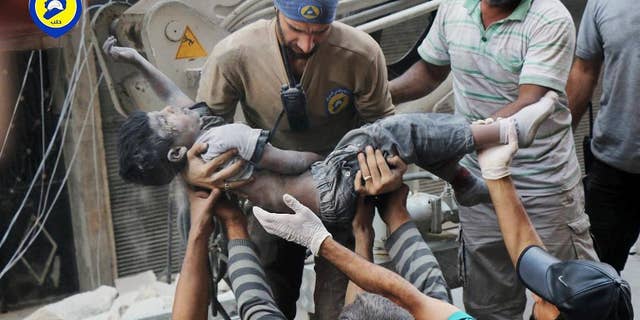 NEWYou can now listen to Fox News articles!
BEIRUT – The Latest on the conflict in Syria (all times local):
12:40 p.m.
Syria's military has released a video of its new advances in the contested Syrian city of Aleppo, showing destruction and ruins in a neighborhood that is hundreds of years old.
The video released Thursday shows damaged traditional buildings, with arched ceilings and stone walls, in the Farafra neighborhood that rests at the foot of the old citadel in Aleppo city. The video shows mounds of debris, twisted metal bars and broken ceilings with fighters walking past.
Syria's government claimed it had repelled rebels from Farafra Tuesday, in the first such advance in old Aleppo. Since last week, the government has waged a major air campaign in Aleppo and threatened a wide ground offensive. The charity Doctors Without Borders says more than 270 civilians have been killed in the advance.
___
12:00 p.m.
A top Russian diplomat says a United States' threat to halt cooperation with Russia in the Syria conflict constitutes an "emotional breakdown" and says Russia is willing to support a 48-hour cease-fire around Aleppo.
Deputy Foreign Minister Sergei Ryabkov on Thursday rejected Washington's calls for a seven-day pause in hostilities, but said Russia is willing to support a 48-hour truce for humanitarian purposes.
Ryabkov's comments follow U.S. Secretary of State John Kerry's warning that the U.S. will stop coordinating with Moscow unless Russian and Syrian attacks on Aleppo end.
Ryabkov was quoted by Russian news agencies as saying of the U.S. that "a certain emotional breakdown occurred."
He also reiterated Russia's stance that a seven-day pause in the Aleppo offensive would give militant groups time to regroup.