Thailand's junta eases politics ban in step toward polls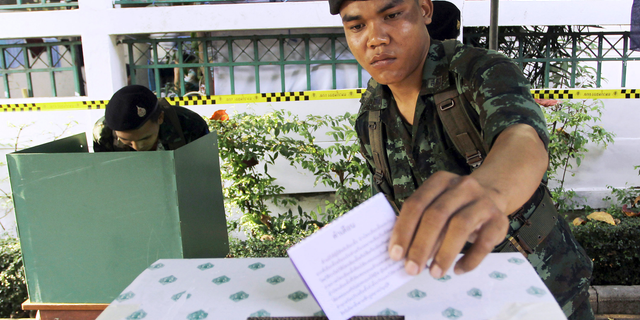 BANGKOK – Thailand has taken another step toward holding elections next year by easing some restrictions on political activities to allow parties to conduct basic functions, but they are still barred from campaigning.
A special order issued by the prime minister, which became law Friday following its publication in the Royal Gazette, allows political parties to gather funds to operate and, with the ruling junta's permission, recruit party members and choose new leaders.
The order comes two days after enactment of laws covering the selection of members of Parliament and senators that mandate that a general election be held between February and May next year. The ruling junta has previously postponed several promised election deadlines.
Deputy Prime Prawit Wongsuwan said Thursday that elections are tentatively scheduled for Feb. 24, repeating previous assertions by other senior officials.
The military banned virtually all formal political party activities after it took over from an elected government in a May 2014 coup.
Friday's order, issued under an emergency law the military enacted after seizing power, said restrictions are still necessary to make sure the country, which it says is now "relatively stable," is on track to achieve the government's reform goals.
Critics have said that a new constitution and other laws enacted under military rule weaken democratic structures with the intention of limiting the power of elected politicians and keeping it in the hands of traditional Thai powerholders, including the judiciary and the military. For example, all senators in the next government will be appointed by the ruling junta, apart from six senatorial positions which automatically go to army and police chiefs.
Prime Minister Prayuth Chan-ocha is expected to run in the polls, or at least make himself available for the next parliament to reappoint him prime minister.
Friday's six-page order allows parties to establish budgets and gather funds from their members. It also allows parties to make rule changes, recruit new members, and choose leaders on the condition that the junta is informed at least five days in advance.
Thawatchai Terdpaothai, a member of the Election Commission, said Friday that it will hold a meeting with all political parties on Sept. 28 to explain the regulations and to hear any concerns the parties may have.
Abhisit Vejjajiva, the leader of the Democrat Party, the country's oldest, announced Friday on the online messaging platform LINE that his party will hold a meeting of senior members on Monday to plan for a broader Sept. 24 meeting at which it will adjust its rules to meet the new election regulations and organize the registration of new members.