Thailand junta leader warns against joining protests as military orders more to surrender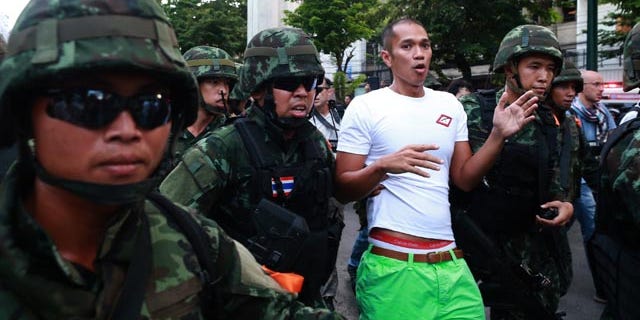 BANGKOK – The top general in Thailand's ruling junta warned people Sunday not to join anti-coup street protests, saying normal democratic principles cannot be applied at the time.
Gen. Prayuth Chan-ocha also defended the detentions of dozens of politicians and activists, most of them associated with the ousted government, with a spokesman quoting him as saying that the measure would not last more than a week and was allowed by law.
In a chilling move apparently aimed at neutralizing critics and potential opposition, the junta has also ordered dozens of outspoken activists, academics and journalists to surrender themselves to military authorities, including a prominent reporter who was summoned to report Sunday.
The military, which is already holding most of the Cabinet ousted in a coup Thursday in secret locations, said it would keep former Prime Minister Yingluck Shinawatra and others in custody for up to a week to give them "time to think" and keep the country calm.
Starting Monday, those in detention who have arrest warrants or face criminal charges will be handed over for prosecution, said deputy military spokesman Col. Winthai Suvaree.
He also said that the general "urged every group of citizens to avoid joining the anti-coup protests because at the moment, the democratic principles cannot be executed normally."
In the three days since Thailand's first coup in eight years, the junta has faced scattered protests that came amid growing concern over its intentions. On Saturday, the military dissolved the Senate -- the last functioning democratic institution left, and absorbed its legislative powers.
"Military rule has thrown Thailand's rights situation into a free fall," said Brad Adams, Asia director at Human Rights Watch. "The army is using draconian martial law powers to detain politicians, activists and journalists, to censor media, and to ban all public gatherings. This rolling crackdown needs to come to an end immediately."
More than 150 people have been held incommunicado, according to rights groups. Deputy army spokesman Col. Weerachon Sukondhapatipak said they were all being well-treated and the military's aim was to achieve a political compromise.
Weerachon said all those held have had their cellphones confiscated because "we don't want them communicating with other people. We want them to be themselves and think on their own," he said, adding that they need to "calm down and have time to think."
The junta on Saturday summoned 35 more people, including politicians, political activists and, for the first time, outspoken academics and some journalists.
One of those on the list, Kyoto University professor of Southeast Asian studies Pavin Chachavalpongpun, said by telephone from Japan that he would not turn himself in. He said the summons meant the junta felt insecure.
"The military claiming to be a mediator in the Thai conflict, that is all just nonsense," said Pavin, who is frequently quoted by foreign media as an analyst. "This is not about paving the way for reform and democratization. We are really going back to the crudest form of authoritarianism."
The junta also broadcast an order for a single journalist: Pravit Rojanaphruk, an outspoken columnist for the English-language daily The Nation, who was told to report to the army at 10 a.m. Sunday. Pravit was defiant, tweeting that "the more they exercise their illegitimate power the more illegitimate they become."
The junta also ordered banks to freeze the assets of two top politicians it had summoned but who remain in hiding, including the ousted education minister and the chief of the former ruling party.
Gen. Prayuth has justified the coup by saying the army had to act to avert violence and end half a year of political turmoil triggered by anti-government protests that killed 28 people and injured more than 800.
The intractable divide plaguing Thailand today is part of an increasingly precarious power struggle between an elite, conservative minority backed by powerful businessmen and staunch royalists based in Bangkok and the south that can no longer win elections, and the political machine of exiled former Prime Minister Thaksin Shinawatra and his supporters in the rural north who backed him because of populist policies such as virtually free health care.
The army deposed Thaksin in a 2006 coup. And on Friday, it detained his sister, Yingluck, who was forced from office earlier this month by a controversial court verdict for abuse of power, which she denies.
The ruling party, which rose to power in a landslide election in 2011 that was deemed fair, had insisted for months that Thailand's fragile democracy was under attack from protesters, the courts and, finally, the army which together had rendered it powerless.
Although Thailand remains calm and there has been little apparent effect on daily life and the tourism industry other than the imposition of a nationwide curfew, small-scale protests against the junta have been reported in the northern city of Chiang Mai, Khon Kaen in the northeast, and the beach resort of Pattaya just south of Bangkok.
In the capital, around 1,000 anti-coup protesters took to the streets for a second straight day, defying an army-imposed edict banning groups larger than five from gathering for political purposes. They were met by hundreds of soldiers, and the groups eventually dispersed.
Several demonstrators have been detained, and rights groups have expressed concern over the growing repression.
"This is a dangerous precedent -- people simply expressing opinions must not be penalized," said Richard Bennett, Amnesty International's Asia Pacific Director. "The need for the military to exercise restraint is particularly crucial given that demonstrations calling for civilian rule could intensify."
The army launched the coup after ordering two days of brief peace talks in which the country's political rivals failed to end their deadlock. Anti-government protesters had been calling for the army to intervene and support their bid to overthrow the government, which they accused of corruption, since November.
The turbulence has played out against a backdrop of fears about the future of Thailand's monarchy. Thaksin's critics have accused him of disrespecting ailing King Bhumibol Adulyadej and trying to gain influence with Crown Prince Maha Vajiralongkorn, the heir to the throne.
The king, who is 86, has been silent on the crisis. On Saturday, the office of Bhumibol's principal private secretary acknowledged receipt of a letter sent by Prayuth regarding the seizure of power, saying only that the monarch had been informed of the coup.
The U.S. State Department urged "the immediate restoration of civilian rule and release of detained political leaders, a return to democracy through early elections, and respect for human rights and fundamental freedoms."
Washington also said it had canceled ongoing military exercises, and a firearms training program for the Thai police. Pentagon press secretary Rear Adm. John Kirby said U.S. was reconsidering its long military relationship with the Southeast Asian country.
Underscoring the challenges facing Thailand's new rulers, police on Saturday said suspected Islamic insurgents detonated at least 10 bombs in the country's restive south, killing three people and wounding 63. It was unlikely that the blasts were related to the coup, though insurgents may have been emboldened by the dramatic development.