Thai Authorities Denounce Topless Dancing During New Year's Celebrations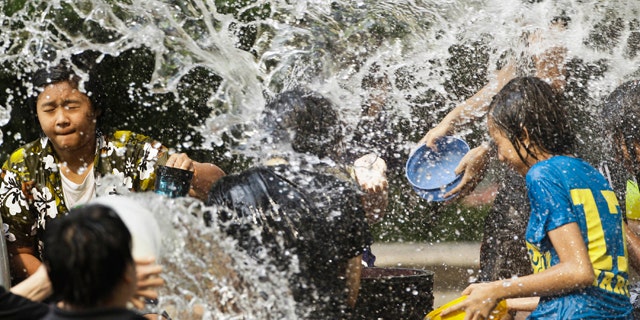 BANGKOK -- Thai authorities denounced three teenage girls Monday who danced topless on a Bangkok street during New Year's celebrations -- underscoring the tension between Thailand's traditionally modest culture and the country's reputation as a sex capital.
Concern was heightened by the young age of the dancers, who were found to be 14, 15 and 16 when they turned themselves in to the police Monday afternoon.
The incident occurred Friday, on the last day of the New Year's water festival known as Songkran, not far from the world-famous Patpong Road red-light district, where live sex shows can be seen for the price of a drink and offers of sexual services to passers-by are only thinly veiled.
But that freewheeling Thailand -- which is often the only one many foreigners see -- is at odds with a fairly conservative culture. Thai authorities have sought to promote that more modest vision of the country.
"Dancing topless during the Songkran celebrations is very inappropriate and unacceptable," Culture Minister Nipit Intarasombut said Monday. "I assume they worked in some kind of nightclubs and got carried away by the vibe." He said he feared foreign tourists might get the wrong idea about Thai society.
Police spokesman Maj. Gen. Prawut Thavornsiri told The Associated Press the three girls arranged to meet them at a discreet location, paid fines of $16 each for public obscenity and were released.
Songkran traditionally was a time to sprinkle water on elders respectfully in exchange for blessings. Splashing water on unsuspecting friends or passers-by eventually became a welcome relief during some of the hottest days of the year, but now the revelry often includes drunken mayhem.
Silom Road, where the incident happened, is shut to traffic during the festival, and vendors sell food and booze and play music, while young people dance in the streets and dump water on one another.
Videos of the teens show them dancing atop parked vehicles with shirts off, and then removing their bras as a rowdy crowd chants, "Take it off!"
The dance has been posted online and has been shown again and again -- with naughty bits blacked out or blurred -- on local television.
"I demand that society come out and criticize them," said Nipit. Before the girls turned themselves in and paid a fine, Nipit said the dancers should carry out community service to heighten their cultural awareness, such as reading books about Songkran to children.
Chalidaporn Songsamphan, a political scientist at Bangkok's Thammasat University, said the present-day nature of the holiday was to blame.
"In the past, people celebrated the tradition with their families, neighbors or those whom they actually knew. ... Nowadays, they are celebrating with strangers," said Chalidaporn, a prominent feminist. "Since we cannot turn back the hands of time ... the Thai state should instead come up with some measures to control the crowd and limit alcohol sales during the festival," Chalidaporn said.