Terror Bombing in Morocco Leaves 14 Dead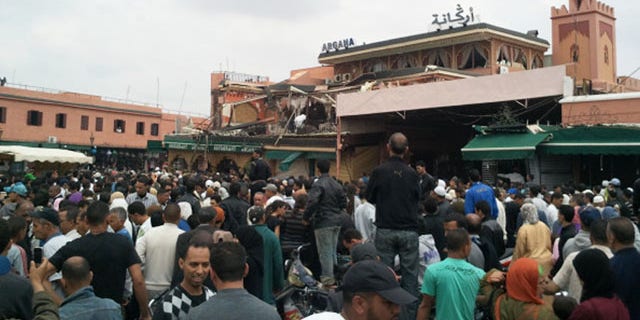 NEWYou can now listen to Fox News articles!
RABAT, Morocco -- A massive terrorist bombing ripped through a cafe popular among tourists in the heart of the Moroccan city of Marrakech on Thursday, killing 14 people including foreigners and wounding 20, the government spokesman said.
The blast in the iconic Djemma el-Fna square was Morocco's deadliest attack in eight years.
Government spokesman Khalid Naciri said it was too soon to say who was behind what he called a terrorist attack, although, he noted, Morocco regularly dismantles cells linked to Al Qaeda in the Islamic Maghreb.
Naciri said that he "cannot be specific until investigators have drawn conclusions."
The explosion just before noon tore the facade off the two-story terracotta-colored Argana cafe, leaving awnings dangling. Panicked passersby dragged away bodies and tried to put out flames with fire extinguishers, witnesses told The Associated Press.
The square, a UNESCO World Heritage site, is a focal point for the hordes of western tourists who visit the central city of Marrakech seeking a taste of the exotic in this Muslim kingdom on the Atlantic Ocean. The square is known for its snake charmers, fire breathers and old town, or medina.
Moroccans and foreigners of different nationalities were among the victims of the blast and authorities were trying to identify them, Naciri said.
At least two French nationals were among the casualties, although it was not immediately clear whether they were dead or wounded, judicial officials in the French capital said. President Nicolas Sarkozy confirmed that French were among the victims.
France is former colonial ruler of this Muslim kingdom and French regularly flock to Morocco. Marrakech itself is a magnet for tourists, and the attack came at the start of the tourist season.
"There was a huge bang, and lots of smoke went up, there was debris raining down from the sky. Hundreds of people were running in panic, some towards the cafe, some away from the square. The whole front of the cafe is blown away," witness Andy Birnie, of north London, told the AP by telephone. Birnie is honeymooning in Marrakech.
"It was lunchtime so the square was very busy. We had just walked into the square, but were shielded by some stalls," Birnie said.
King Mohamed VI offered condolences to victims and ordered instructed the interior and justice ministers to ensure an investigation "to determine the causes, the reasons and the goals of this criminal explosion," MAP reported, quoting a statement from the Royal Cabinet.
Naciri, the government spokesman, said that while the authorities "regularly discover terrorist cells ... nothing led us to believe, or foresee, an act of this magnitude."
"Morocco has an international image of welcome, hospitality and tourism," he said during a telephone interview. "An act of this magnitude will leave traces."
Morocco, a steadfast U.S. ally within the Muslim world, is largely calm but was hit by five simultaneous terrorist bombings in Casablanca in 2003 that killed 33 people and a dozen bombers. Moroccan authorities have regularly rounded up terror suspects since then, arrested thousands and have been on alert for terrorist activity.
The Moroccan Islamic Combatant Group, or GICM, a militant group was believed linked to those attacks. The GICM has also been implicated in the deadly attacks in Madrid in March 2004.
In April 2007, a suicide bombing beside the U.S. consulate in Casablanca, the economic capital, forced the facility to close for a period for a security review. A second bomber detonated his explosive belt in the same street, just yards from the American Language Center where English is taught. Only the bombers died in that blast.
Al Qaeda has an affiliate operating in North Africa that stages regular attacks and kidnappings in neighboring Algeria. Morocco has said in the past that it has dismantled numerous Al Qaeda plots. Al Qaeda in the Islamic Maghreb currently holds four Frenchmen hostage after kidnapping them in Niger last year, and recently released new images and audio recordings of their voices.
Portuguese tourist Alexandre Carvalho, a 34 year-old call center worker from southern Portugal said, "I had just arrived at the square, the area where most cafes are located. Suddenly I heard this massive explosion, I had my back turned to it, I turned around to see it the explosion had happened on the veranda of a cafe.
"There were at least 10 injured people, lots of debris, things flying up in the air. I saw people in a panic running towards the area with fire extinguishers, some people being carried away. I believe the injured were mostly tourists, judging by what they were wearing," Carvalho told AP by telephone.