Syrian rebels battle regime forces after capturing governor of northern province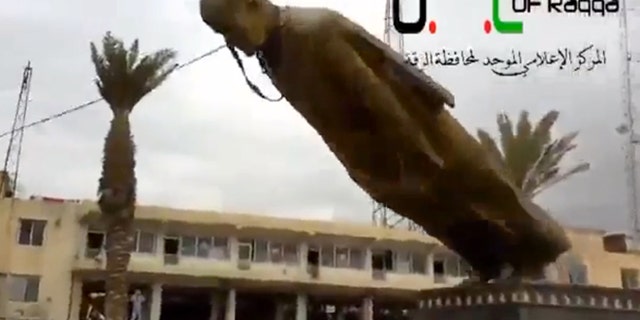 BEIRUT – Syrian rebels battled pockets of regime loyalists in the northern city of Raqqa on Tuesday after capturing the governor of the northern province in fierce clashes overnight, activists said.
Rebel fighters pushed government troops from most of Raqqa, a city of some 500,000 people on the Euphrates River, on Monday. If the opposition manages to wrest all of Raqqa from the government, it would mark the first time an entire city has fallen into opposition hands, dealing both a strategic and a symbolic blow to President Bashar Assad's regime.
The Britain-based Syrian Observatory for Human Rights said opposition fighters captured the governor of Raqqa province, Hassan Jalili, after clashes overnight near the governor's office in the provincial capital, also named Raqqa. The Observatory said the head of Assad's ruling Baath party in the province was also in rebel custody.
Observatory director Rami Abdul-Rahman said Jalili is one of the highest-ranking officials to fall into rebel hands since the Syrian crisis began nearly two years ago.
Righting was still raging on Tuesday near an intelligence building in the city as well as several other places, he said, adding that "some of Raqqa is still under regime control."
The Observatory said government warplanes carried out airstrikes on two targets in the city, causing an unspecified number of casualties. It also reported heavy fighting near an ammunition depot on the northern edge of the city.
Rebels have been making headway in Raqqa province for weeks, capturing the country's largest dam west of the city. On Sunday, anti-Assad fighters stormed Raqqa city's central prison, and after rebels swept regime forces from much of the provincial capital on Monday, euphoric residents poured into the main square and tore down a bronze statue of Assad's late father, Hafez.
The Syrian conflict started two years ago as a popular uprising against Assad's authoritarian rule, then turned into a full-blown civil war after the rebels took up arms to fight a government crackdown on dissent. The United Nations estimates that more than 70,000 people have been killed in the conflict.
The relentless violence also has destroyed many of the country's cities, forced hundreds of thousands of Syrian to seek refuge abroad.
The U.N. children's agency said in a statement Tuesday that the fighting threatens the education of hundreds of thousands of Syrian children, and that 20 percent of the country's schools have been damaged in the war or are being used to shelter refugees.
"The education system in Syria is reeling from the impact of violence," said Youssouf Abdel-Jelil, the UNICEF Syria representative. "Syria once prided itself on the quality of its schools. Now it's seeing the gains it made over the years rapidly reversed."
A UNICEF assessment conducted in December 2012 determined that 2,400 schools have been damaged or destroyed and another 1,500 are being used to house displaced persons, the agency said in a statement.
Schools in Idlib, Aleppo and Daraa, where the fighting has been particularly intense, are among those most affected, the statement said, adding that more than 110 teachers and other school workers have been killed and many others aren't showing up for work anymore.
The bloodshed has also has spilled over into neighboring states on several occasions, fanning fears of a regional conflict. On Monday, gunmen killed 48 Syrian soldiers who had crossed into Iraq for refuge, heightening concerns that the country could be drawn into Syria's crisis.
In Damascus, Syrian Deputy Foreign Minister Faisal Mekdad handed over to the Russian ambassador a man he said was a German journalist, Billy Six, who had been detained after entering the country illegally.
Mekdad did not provide any details or say how Six ended up in regime hands.
Six appears to have been working for a German conservative weekly publication, Junge Freiheit, which posted numerous articles written by Six in Syria until late November.