Syrian Protesters Fighting Back Against Security Forces Entering Opposition City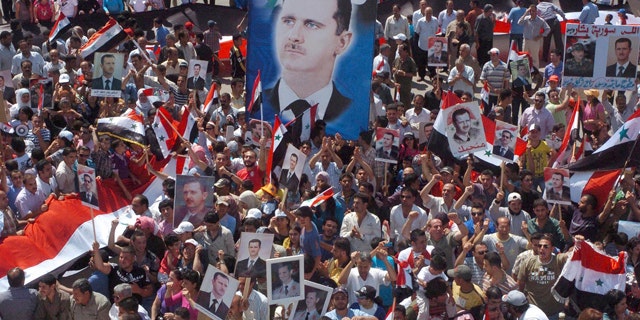 BEIRUT -- Syrian protesters hurled stones and set roadblocks of burning tires against government forces trying to enter a key opposition city Thursday, nearly a week after a massive protest against the regime of President Bashar Assad, activists said.
Earlier, dozens of families fled the central city of Hama fearing a full-scale crackdown by Assad's troops.
The central Syrian city has become a center of resistance in the four-month-old uprising and poses a potential dilemma for Assad's government. A major offensive could make the city a fresh rallying cry for the opposition, but Assad's regime also does not want a repeat of last Friday's stunning rally, when an estimated 300,000 people protested.
In a bid to show solidarity with the residents, U.S. Ambassador to Syria Robert Ford visited Hama on Thursday to witness the situation firsthand. The State Department stressed he traveled there independently, and not as part of a trip organized by the Syrian government.
Hama also holds deeper symbolism for opposition to the rule of the Assad family. In 1982, the late Hafez Assad ordered troops to crush a rebellion by Islamist forces, killing between 10,000 and 25,000 people, rights activists say.
The Syrian regime has used a mix of fierce violence and promises of reform to try to quell the uprising. Some 1,400 people and 350 members of security forces have been killed since demonstrations began, activists say.
Some of those fleeing Hama, who mostly live on the edge of the city, headed westward to the town of Salamiyeh about 20 miles away, said Rami Abdul-Rahman of the Syrian Observatory for Human Rights and a Hama-based activist.
"They are afraid of military operations in the area," said Abdul-Rahman. Security forces have been conducting arrest raids on Hama's outskirts for the past two days.
On the other side of the city, young men threw rocks and burned tires, halting at least four buses filled with security forces, said Abdul-Rahman and the activist.
Both of them cited reports by residents for their information. Details could not be independently confirmed. Syria has barred most foreign media from the country.
Security forces withdrew from Hama last month after a fierce crackdown on demonstrators that killed some 65 people -- apparently hoping to appease angry, grieving families. But anti-Assad protests swelled. Last week's outpouring was the largest protest since the mutiny against Assad's regime began in mid-March.
Defiant residents also have shuttered shops and set up road blocks throughout the city, said Abdul-Rahman and a Hama-based activist, hoping to prevent Syrian army troops from entering deep into the city.
The activist, who spoke on condition of anonymity because of fears of reprisals, said young men kept watch on the streets and rooftops -- hollering and calling out "God is Great!" as a warning sign when they suspected security officials were trying to sneak into the city.
Some tanks withdrew from an entrance to the city on Thursday, but activists say there were no clear signals on the government strategy. Still, residents were nervous about a repeat of the 1982 assault, Abdul-Rahman said.
"I don't think Syrian forces would do anything so stupid -- because of the symbolism of Hama and the massacre," Abdul-Rahman said. "Still, there's nothing that can be ruled out."
In another show of defiance, many merchants in and around Hama shuttered their shops in protest, according to activists and videos posted on YouTube.
A video from the small town of Kufr Zeiteh near Hama was typical. It showed a showed a line of shuttered blue doors, including a hair salon and mobile phone shop. Only a grocer selling vegetables in boxes could be seen working.
"General strike," said a young man on a video clip.
Activists are trying to hold once-a-week strikes throughout Syria.
The U.S. ambassador's trip to Hama came more than two weeks after Ford drew criticism from some in Congress for participating in a trip to the country's restive north that was sponsored by Assad's regime to attempt to justify its military crackdown.
State Department spokeswoman Victoria Nuland stressed that Ford traveled independently to Hama.
"He spent the day expressing our deep support for the right of the Syrian people to assemble peacefully and express themselves," Nuland told reporters in Washington.
To reach the city, Ford passed through a military checkpoint and a civilian checkpoint organized by Hama residents, she said. Ford saw a town in a tense situation, with many shops closed. He also visited a hospital treating wounded people, Nuland reported.
Nuland said Ford hoped to remain in Hama through Friday, when mass protests are usually held. "Folks are concerned about whether the security forces will move in," she said.
Meanwhile, two widely respected Syrian opposition leaders said they would not participate in an upcoming government-held meeting on Sunday in the capital Damascus to discuss reforms.
Anwar al-Bunni and Michel Kilo said the government had halt its violent crackdown for dialogue to have a chance at success.
Also Thursday, Syrian legislator Mohammed Habash said parliamentary elections scheduled for August may be postponed for months.
It appears officials want to push back elections to give time for reforms that would allow the establishment of some political parties and constitutional amendments.
Syria effectively has a rubber-stamp parliament while Assad and a close circle of relatives and advisers make all real decisions. But by delaying elections, Assad may be trying to appease demonstrators by showing he is serious about long-demanded reforms.
Anti-government activists have dismissed such moves in the past.