Syria symptoms consistent with nerve gas: experts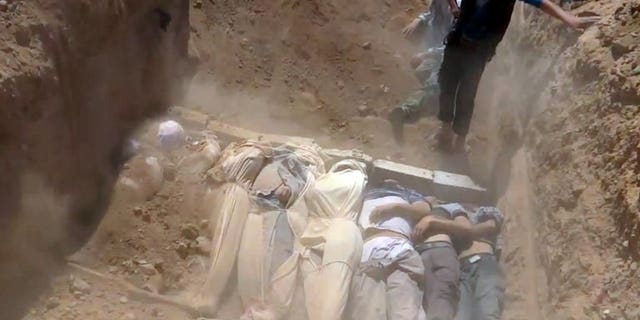 PARIS (AFP) – The convulsions, pinpoint pupils and laboured breathing seen in victims of an alleged chemical attack in Syria could be symptoms of nerve gas, experts said Thursday, but only blood and urine samples can provide proof.
Syria's main opposition group says more than 1,300 people were killed Wednesday in a government attack on rebel areas near Damascus -- a charge the government vehemently denies.
Footage distributed by activists showed people foaming at the mouth and doctors apparently giving people oxygen to help them breathe and trying to resuscitate unconscious children.
Chemical and defence experts said the symptoms appeared consistent with exposure to a nerve agent like sarin or VX.
"A large number of symptoms definitely point in that direction," said chemical weapons expert Jean Pascal Zanders, although he said much more information was needed for a definitive conclusion.
"Yesterday... I was sceptical about the claims of nerve agent neurotoxicants, I have revised my position on that a bit on the basis of footage I have seen later in the day where a number of symptoms consistent with organophosphorus poisoning" were apparent.
Organophosphorus is a chemical compound used in nerve agents like sarin -- an odourless, paralysing gas developed by Nazi scientists and used by Iraqi dictator Saddam Hussein's regime to kill thousands of Kurds in 1988. It kills by asphyxiation.
However, experts said only tests on the alleged victims would provide definitive proof.
"A strong inference is being made that chemical weapons were used, but we need scientific proof like the presence of metabolites (what remains after a drug has been broken down by the body) of sarin in the blood or urine" of victims, Olivier Lepick, a chemical weapons researcher with France's Foundation for Strategic Research, told AFP.
Zanders said there was "widespread acceptance that sarin is part of Syria's military arsenal together with mustard agent and VX."
It also had the capacity to deliver such agents, said Lepick, with rockets, aerial bombs, artillery shells and Scud missiles.
The first footage released showed victims with classic asphyxiation symptoms like a pinkish-blue face colouring, a black line around the mouth and coughing, said Zanders.
Later images also revealed evidence of miosis -- a dilution of the pupils, and convulsions that are typical of nerve agent poisoning.
"It is not only the symptoms but the whole context," said Ralf Trapp, a chemist and disarmament expert, who agreed the evidence of nerve agent use was "pretty strong".
"We have a large number of people, which is what you would expect" with a nerve gas attack. "We have children, women and men."
According to Trapp, traces of nerve agent poisoning would remain in the urine of victims for several days and in the blood for weeks.
"It is absolutely not too late!" he said as Western governments demanded access to the sites of the alleged attacks for a team of UN weapons inspectors that arrived in Syria on Sunday.
Some observers had pointed out that doctors and nurses seen assisting the patients were not showing symptoms of second-hand nerve agent poisoning, but Zanders said this may be explained by the victims being washed with water.
"There is probably some sort of toxic chemical involved. This need not necessarily mean a classical chemical warfare agent," said John Hart, head of the Chemical and Biological Security Project at the Stockholm International Peace Research Institute.
"If there is pure sarin, perhaps more should be dead, and a lower percentage alive but showing effects."
Zanders said it was not possible definitively to identify sarin or VX, adding that a variety of chemicals could be involved.
It was also unclear how any chemicals had been disseminated, he added.
"For all I know it could have been a silo or a warehouse nearby with toxic chemicals that was hit, thus blanketing a particular area," said Zanders.