Syria chemical arms use 'crime against humanity': Canada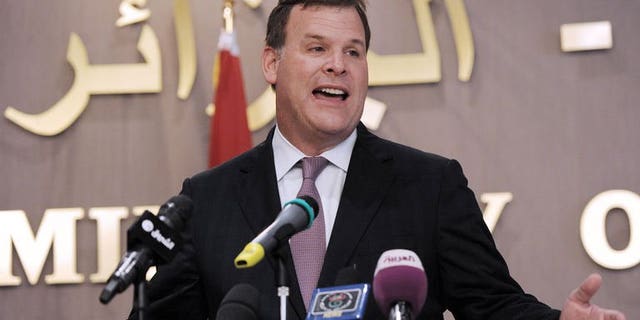 ALGIERS (AFP) – Canadian Foreign Minster John Baird said Sunday on a visit to Algeria that the use of chemical weapons in the Syria conflict was a "crime against humanity."
"The use of chemical weapons by President Bashar al-Assad's government against the children of the Syrian people is a crime against humanity," he said at a news conference with his host and counterpart Ramtane Lamamra.
"A political solution is the only way to have peace in Syria and end the suffering of the Syrian people," Baird said.
Lamamra said: "The tragedy of chemical weapons use, whoever was behind this especially despicable act, occurred in the context of a greater tragedy since the Syrian civil war has cost the lives of many thousands of people."
Algeria's foreign minister agreed that "the solution can only be peaceful and political," and said it was "positive" that Damascus had applied to and been formally accepted into the chemical weapons convention.
Algiers, a traditional ally of Damascus that itself ratified the convention in 1993, has welcomed a US-Russian agreement signed on Saturday to remove Syria's chemical weapons.
The deal to dismantle and destroy its chemical arsenal -- one of the largest in the world -- by mid-2014 was thrashed out over three days in Geneva between US Secretary of State John Kerry and his Russian counterpart Sergei Lavrov.
It gives Assad a week to hand over details of his regime's chemical weapons arsenal in order to avert unspecified sanctions and the threat of US-led military strikes.
On Monday, the United Nations is due to release its investigation of an August 21 attack near Damascus in which Washington says Assad's forces unleashed sarin gas, killing some 1,400 people.
Damascus denies the charge.